JottiQ – Virus Scanner That Uses Jotti Malware Scan, Alternative to VirusTotal
We all know about VirusTotal which is an online service that scans files from multiple antivirus applications. JottiQ is another freeware, developed by one of the coder named worseje who participated in DonationCoder's NANY2011 (New Apps for the New Year) challenge, that uses Jotti's malware scan service to verify the integrity of selected files and currently running executables from the best antivirus services. This can be particularly useful for checking suspicious files and to verify if an installed program has been infected. JottiQ is available with an installer package and in portable format.
To start the scanning process, simply drag and drop files to be queued and click the Process Queue button (or press F5). This will scan your files turn by turn and display a result from numerous antivirus programs used by the Jotti service.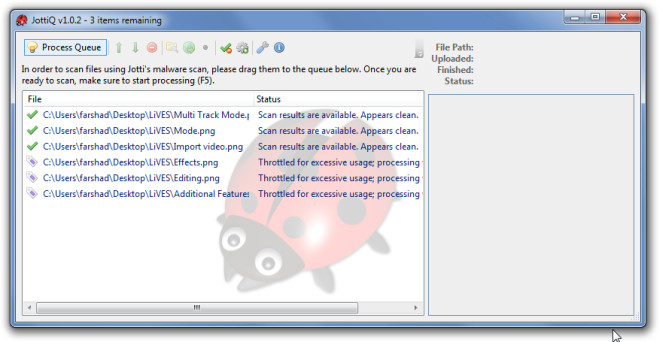 To scan the currently executable files, click on the Scan Executables button (next to the wrench icon) or press Ctrl+P.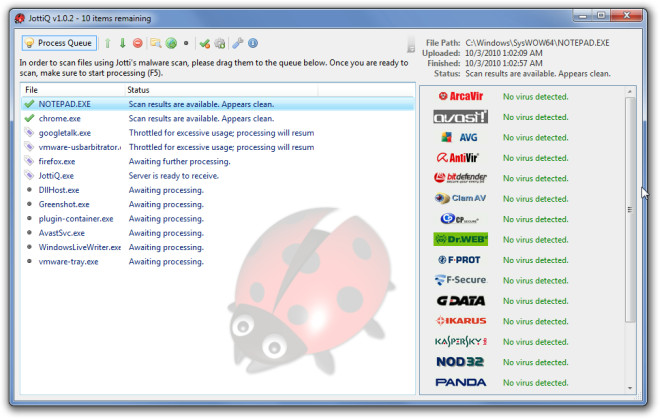 Scanning preferences can be set from the Settings button (Wrench icon) or by pressing F6. From here you can also choose your scanning result criteria, automatically remove safe files after scanning, choose the maximum number of files to be scanned simultaneously, add JottiQ in the context menu and manage queuing options.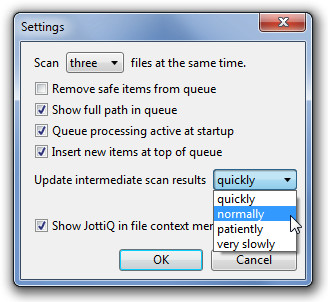 JottiQ provides the utility to use many trusted scanning software simultaneously to identify malicious files and applications on your system. However, it must be noted that JottiQ is designed to handle small files and is by no means meant to replace your antvirus software. Instead, it provides the option to identify infected files by scanning it with robust protection programs. It works on Windows XP, Windows Vista and Windows 7, provided you have .Net Framework 4.0 and x86 or x64 versions of Microsoft Visual C++ 2010 Redistributable Package (depending upon your operating system type) installed. We tested it successfully on Windows 7 64-bit system.