K2pdfopt: Optimize PDF & DJVU Files For Kindle & Mobile Devices
It can be rather hard to optimize PDF files for handheld devices such as smartphones and Amazon's Kindle e-reader, mainly because adjusting numerous aspects of a document manually to make it suitable for a screen as small as a 6-inch Kindle device can be really tough. K2pdfopt (Kindle 2 PDF Optimizer) is a cross-platform application to optimize PDF or DJVU files for small mobile readers and smartphones. K2pdfopt has been designed for text-based files with graphical figures and a white background. The conversion process is performed using CLI (Command Line Interface), and works quite well with two-column or multi-column PDF/DJVU files such as IEEE.
To convert a document, drag it over the K2pdfopt.exe file, launching the command line interface. Press Enter to create a separate document with default settings, or select an option from the given options to adjust document settings. For example, if you do not wish to use default settings, you can enter a given command to auto straighten, break pages, color output, detect columns etc, to adjust the document.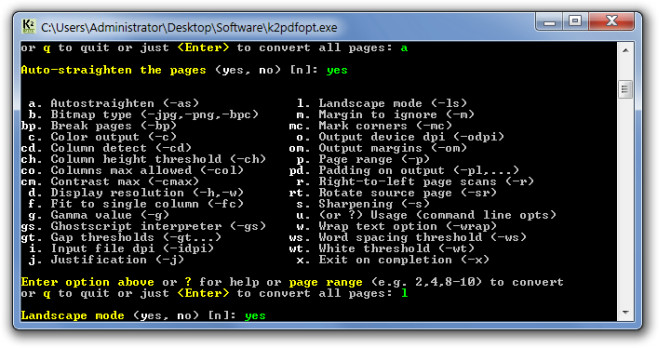 The original PDF or DJVU document is completely preserved and a separate file is created within the same directory as the original file. The new file will have _k2opt added at the end of its name, but the file extension will remain the same. The output file will, hence, be optimized for viewing on Kindle, mobile readers and other 6-inch screens (if you use default options). You can also drag and drop an entire PDF or DJVU folder, or a number of files, onto the K2pdfopt.exe file, to convert documents in batch.
K2pdfopt works on Windows XP, Windows Vista, Windows 7, Mac OSX and Linux based operating systems.