KatMouse: Configure Application-Specific Scroll Settings In Windows 7
There was a time when there were only two button mice available. Then, a third button was added to extented the functionalty of mouse for scrolling the page and performing other tasks. Nowadays, the number of buttons on a computer mouse have increased a lot with 5 button mice being commonly used, while the ones with more buttons are used in specific applications, like games. A gaming mouse, the Razor Naga Epic, has 17 programmable buttons! If you want to extend the functionality of your 3-button mouse, what you can do is use an application that allows adding and modifying mouse buttons' functions. For instance, universal scrolling is a feature that can be added by using Always Wheel and WizMouse, which let you scroll inactive windows. KatMouse is an application that enhances the utility of the scroll wheel of a mouse. It offers universal scrolling, seperate scroll settings for specified application & app windows, and pushing windows to the bottom of the windows stack on your desktop. Keep reading to find out more about KatMouse.
The application runs in the system tray, allowing you you to bring up Settings window. The Settings dialog has four tabs: General, Wheel Button, Applications and Classes. The General tab lets you change the basic settings of the application, including, number of lines to scroll at a time and scroll a page at a time, while the Wheel Button tab allows you to specify the Push Button (to push down windows). The Push Button comes in handy when you're dealing with a lot of windows, and you want to quickly move to an inactive window. Additionally, if you hold down the specified Push Button, and then click the left and right mouse buttons, it begins to scroll the page of the window present underneath the mouse cursor.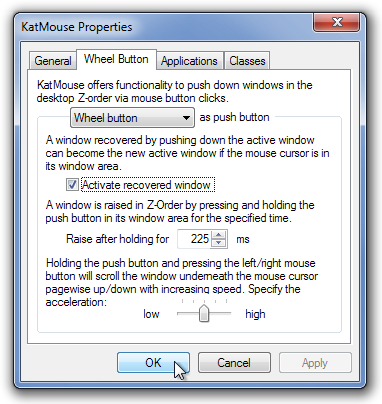 From Applications tab, you can also set separate scroll settings for specified applications. The Classes tab lets you manually mark the application windows and set scroll settings for each added app window.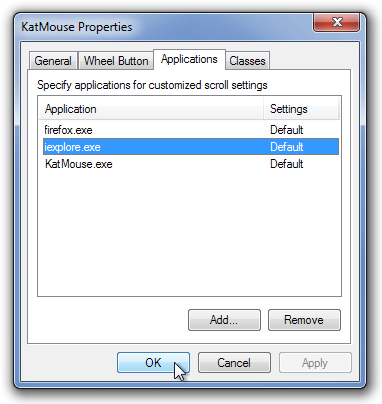 Once the application is added to the list, just double-click it to define individual scroll settings. You can choose scroll it by a set number of lines or to scroll a page at a time option. You can also exclude an application or window from the KatMouse scroll settings by selecting the Don't Handle Window At All option.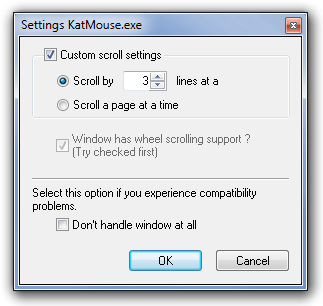 While the application extends the functionality of the scroll wheel, it also disables the default options provided by Windows, such as closing browser windows and sideways scrolling. KatMouse works on NT (Service Pack 3), Windows 200, XP, Windows Vista and Windows 7.