Lazar Crypter – Encrypt And Decrypt Files From Windows Context Menu
When it comes to quickly protect your files with password, the best method would be to encrypt them from Windows shell context menu. If you're not using TrueCrypt or BitLocker to protect your files and looking for a simple tool to encrypt files by staunch encryption algorithm without having to configure lengthy settings, you may want to try out Lazar Crypter. It is an open source app which integrates with Windows context menu, providing option to encrypt and decrypt any file with only one click. Moreover, integrity check, copy, cut, and paste functions are also provided along to quickly move encrypted files to external storage mediums.
It adds an extra menu in Windows context menu, from where you can access all the provided functions. Lazar Crypter doesn't simply password protect files, it's backed by 256-AES encryption algorithm to ensure data confidentiality.
After installation is completed, right-click the file which you want to encrypt and from Lazar Crypter menu, click Encrypt. You can also select multiple files to encrypt them with same password in one go.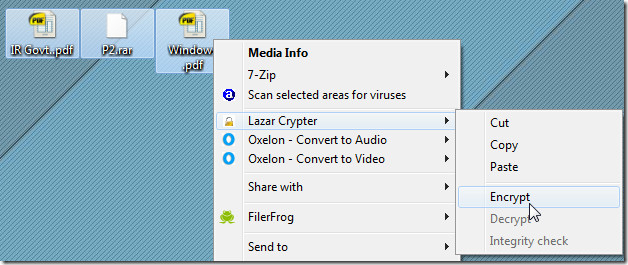 It will ask you to enter the password to encrypt the file. Once done, it will move the file into native encryption file format container – ICR.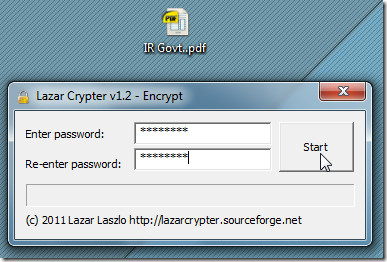 Unlike encryption which can be applied over multiple files in one go, the ICR files can't be collectively decrypted. You need to select encrypted file one by one, and follow the decryption process.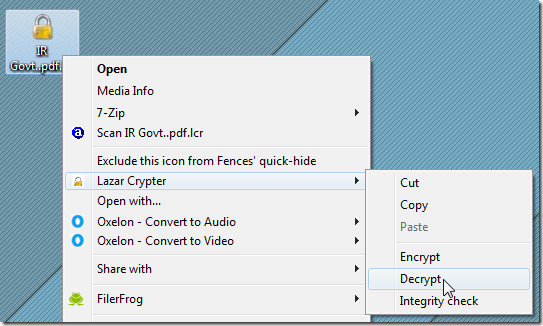 Lazar Crypter works on Windows XP, Windows Vista, and Windows 7.