Listary: Add Powerful Search To Windows Explorer & Popular Applications
Listary is a brilliant search application, which when installed, sits in your system tray and offers file search right from Windows Explorer, and certain other applications like FileZilla, WinZip, WinRar, 7-Zip, Windows Registry Editor, uTorrent, Task Manager, File Open/Save Dialogs, and much more.
It offers search function as you type, where you can type just a few letters of the file that you're looking for, and select the desired file from the real-time search results that are shown along side as a list. You don't even need to key-in the whole word; a few keystrokes and you're likely to find the file immediately.
In order to use Listary, just press the hotkey (Windows + W) or simply start typing the letters that you want to look up, in the selected folder. Search results will begin to display as shown in the snapshot below.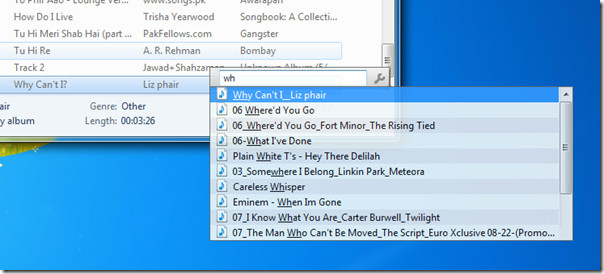 Not only does Listary work across multiple applications, it also boasts features such as autocomplete and wildcard search. Then there is hotkey support as well, while the pro version adds RegEx search as well as the option to export the search results.
There are two search modes available; the default search mode integrates wildcard-like search automatically, giving you search results much like Firefox's address bar, where typing just a few words will locate the full URL from browsing history, no matter where the words actually occur in the URL.
The Traditional search mode allows input of wildcards, and here the files would be matched based on the first letters of search input. You can alternate between the two search modes from Options dialog.
Right-clicking the try icon will let you check for updates, update to the software's Pro version, and access options, among other settings.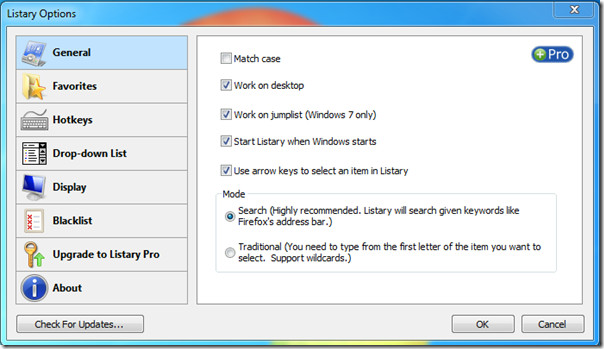 Listary is very useful to find desired material quickly from huge volumes of files. The application works great with Windows 7, and has exclusive jumplist support especially for this OS.