Maintain And Optimize Your System With Complete System Tuneup
Complete System Tuneup is a free easy-to-use program which is basically designed to assist the average computer user in maintaining his/her computer. Now there is no need to install multiple applications, just simply use the Complete System Tuneup utility and you are ready to perform almost all system tweaks and cleanup operations with it. Also check out our previously covered Perfect Utilities review.
On the left side there is a column with a variety of options, you may click the relevant option and all its related tools will be displayed in the right side main window.
You can manage the System's start up options from the Startup Items tab, System Cleaner lets you clean the temporary/cache files of your browser and other utilities. The most important option is Tools, which offers many useful utilities which help you in daily routine system maintenance and optimization. It bundles tools like the Disk Defragmenter, Task Schedular, Event Viewer, Performance Monitor, System Backup and Restore and many more as shown in the following screenshot.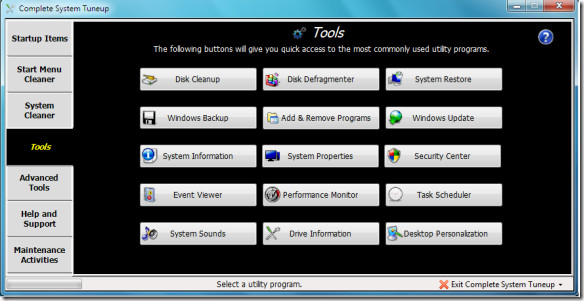 The Advanced Tools category provides you with utilities such as the Registry Editor, Task Manager, Command Prompt, Remote Assistance, etc, which prove very useful for you in managing your computer and system configuration.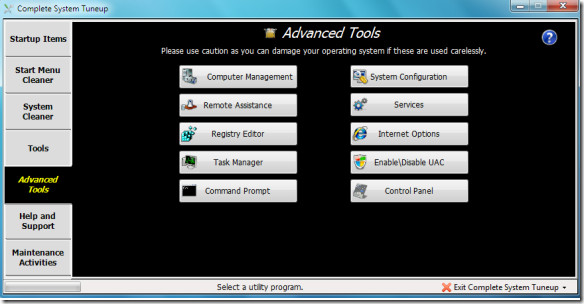 Download Complete System Tuneup
It works on Windows XP, Vista, Windows 7 and Windows 8. Enjoy!