Manage And Analyze Duplicate Files In Your System With Dup Scout
Are you looking for a duplicate file cleaning utility which can scan your system for duplicate files, documents, images, etc., to free disk space? Before choosing one, you should delve deep into the details to know about the algorithm that applications implement to find and remove duplicate files. Since, there are many self-generated files which are handled and used by Windows OS in numerous situations. Unfortunately, conventional duplicate removers also delete such files off the disk which may cause a serious system havoc. In order to keep your system stable after removing duplicate files, you need to have one efficient duplicate file manager which has an ability to create links with user-defined files, shift all the duplicates to defined directory, compress files to get more space, and finally, to delete all the specified duplicate files which are not significant to system stability.
Dup Scout is more than just a duplicate file cleaner. It allows you to scan the system for duplicate files for calculating total wasted disk space. It also analyzes duplicate files by file extensions, so you can know the type of files which has maximum number of duplicates. As far as duplicate file management is concerned, you can delete duplicate files directly, create links of duplicate files, move all the duplicates to any local location in order to check whether system will work or not after removal of files, and compress files to save disk space.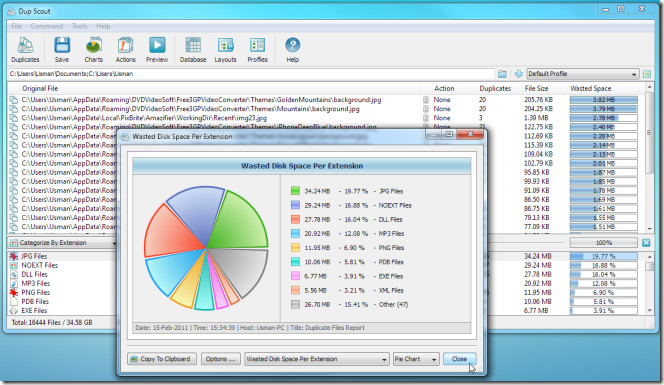 Usage is pretty simple. To get started, from Command menu, click Find Duplicate Files to specify locations which are to be scanned. Once selected, move to Exclude, Speed, and Actions tab to filter files/folders from the process, specify search speed and mode, and choose an action respectively.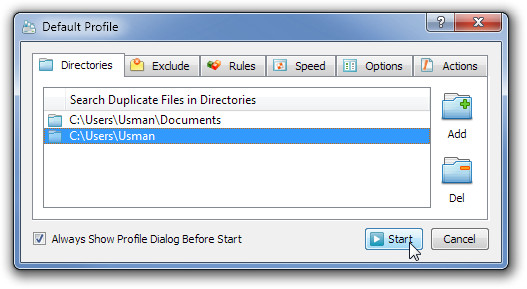 Once settings are in place, click Start to begin scanning defined locations for duplicate files. It will start listing down the duplicate files in the main window while showing information like action performed, number of duplicates, and wasted space.
At the bottom pane, it creates categories of file type, showing all the extensions of duplicate file which are listed in the main window. The category pull-down menu lets you switch between different file attribute scales, such as, by extension, file size, access time, modified time, user name and by file type.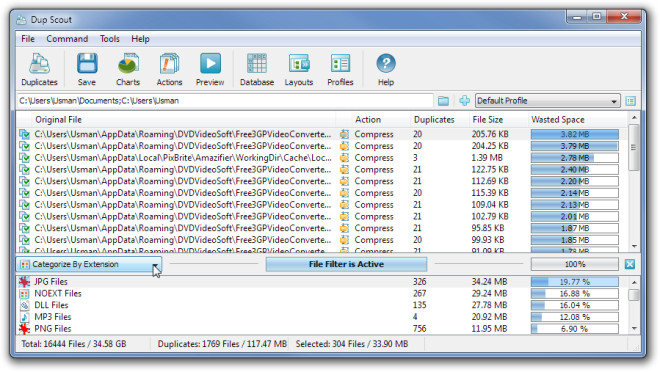 Action chosen beforehand can be changed by clicking Action button on the toolbar. You can pick to remove all duplicate file, create links, move files to specified directory or compress them in one go.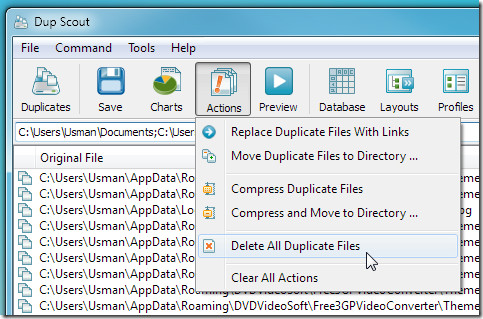 Moreover, it comes with an in-built analysis mechanism to visually analyze duplicates files against wasted space and per each extension. To analyze duplicates, click chart to view Pie and bar chart. Chart type can be switched from drop-down menu present adjacent to close button. Furthermore, you can also copy the statistics to clipboard to review them later.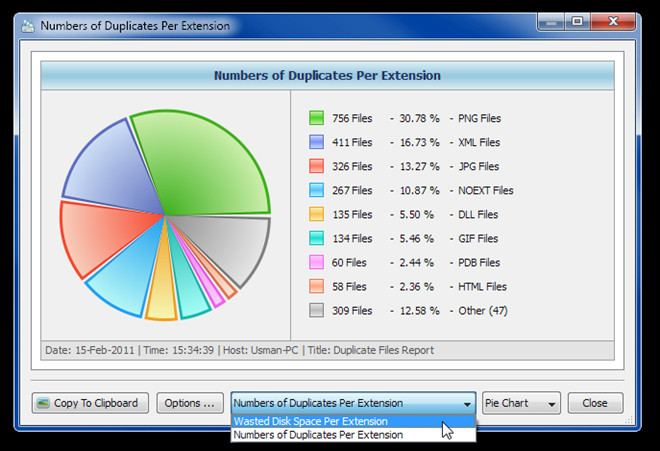 After the action which is to be performed over files has been selected, click Preview to view all the duplicate files followed by Execute to perform the selected action over them.
Dup Scout comes in two versions – Free and Ultimate, the former has all the aforementioned tools and features while Ultimate version lets user apply rules and configure more advance options for setting duplicate file Actions but costs $10. It works on Windows XP, Windows Vista, and Windows 7.