Measure Your LAN Speed/Bandwidth With LAN Speed Test
If you are looking for a  tool to check network speed, then try the useful Local Area Network speed tester, LAN Speed Test, it is an easy-to-use portable utility which helps you accurately measure the LAN speed.
Its working mechanism is very simple, it writes a file to a particular folder (you will specify this file and folder along with the file size as well), then clears the windows file cache and reads the file back then clears the cache again, deletes the file, and displays the results. It is a very light-weight application as when running, it consumes even less than 1 MB of memory.
Just download it from the link mentioned at the end of the post and run the executable file. Then specify the location for the write file and click the Start button in order to initiate the LAN speed test. Once completed, you will get useful speed statistics about your network.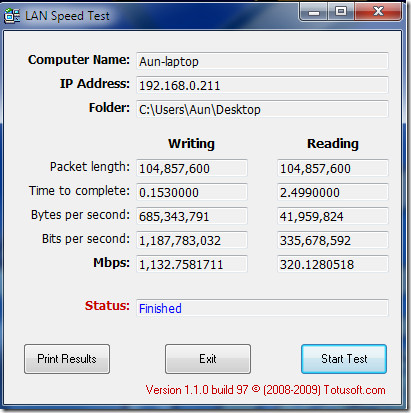 According to the developer's web site, it works on windows 98SE, Windows ME, Windows 2000, Windows 2003, Windows XP & Windows Vista, but we tested it successfully on Windows 7 as well. Enjoy!