Microsoft Excel 2010 Data Bar
Introduction
Just like Sparklines, Data Bars are also a way to represent data graphically inside the cell. They provide a way to show values visually using bars within the cells that contain values. The Data Bar feature was included for the first time in Microsoft Excel 2007.
Excel 2007 Data Bar Vs Excel 2010 Data Bar
Data Bars in Excel 2007 had their base at the left edge of the cell, and extended to the right. If a cell had a zero value, it still had a small length of bar, giving the wrong impression that the cell really did contain some value. This problem has been fixed in Microsoft Excel 2010 along with some other small glitches. Now in Microsoft Excel 2010 you can make your bars go right to left.
How To Insert a Data Bar in Excel 2010
Here are the steps to insert a Data Bar in Excel 2010:
Populate your excel sheet with the data.
Select the cells in which you wish to insert the Data Bar.
Go to the Home > Styles > Conditional Formatting > Data Bar option and choose the database style that you wish to apply.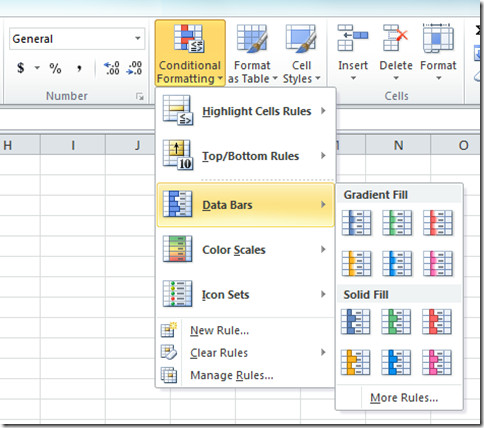 That's it, the data bar will be applied.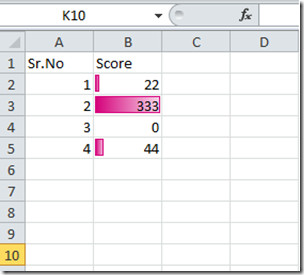 For a more detailed post, check out the Guide On Excel 2010 Data Bars.