Microsoft Fix It Center Fixes Common Windows Problems
There are plenty of 3rd party tools to fix Windows problems, offering promising results. Microsoft Fix It Center is the first official tool from Microsoft to fix errors and problems in Windows. We would highly recommend fixing your problems with this official tool before using any 3rd party utilities. After all who can know Windows better than Microsoft themselves.
Instead of having to troubleshoot the problems yourself, you will see different categories on the main interface which you can automatically fix. When clicked Run, it will open a new dialog window to find and analyze the problem before downloading the correct fix which you can Install.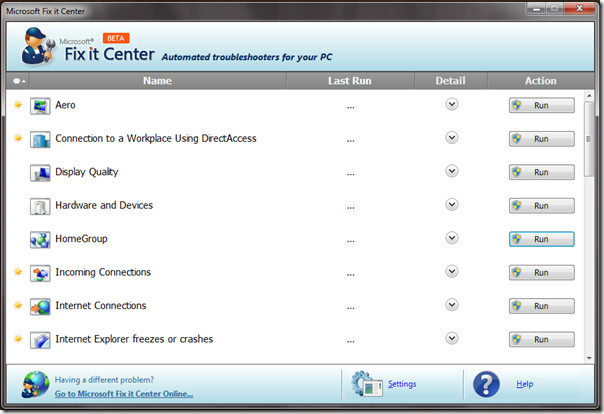 As for now, the program is still in beta and fixes only limited number of problems. In case your problem is not fixed, you can create an account or login using your existing Windows Live ID in Windows Fix It Center Online website.
When started for the first time, it will automatically detect the version of Windows your system is running. It works on Windows XP, Windows 2003 Server, Windows Vista, Windows 2008 Server, and Windows 7. Both 32-bit and 64-bit OS are supported.
Download Microsoft Fix it Center