Microsoft Teams Cannot Delete File (FIXED)
Microsoft Teams is more than a chat application; it is a collaboration tool that takes advantage of Microsoft Office 365 apps as well as various other Microsoft services to give users a hub for working together. Among its many features is a file sharing feature that allows users to collaborate on documents, edit them together in real-time, among other things.
Files can be shared in general channels, or with specific users. A file that's shared to a specific channel can be accessed by everyone in that channel. Multiple people can edit it at the same time and while the feature is great, it can cause problems with permissions and file access.
How do I delete a file in Microsoft Teams?
Files that are shared over Microsoft Teams can be deleted by anyone in the team. All you have to do is go to the Files tab, select a file, and click the delete button. Of course, if you've shared a file in a channel with multiple people, you may have some trouble deleting it. If Microsoft Teams thinks the file is being used/edited/read, it won't let you delete it.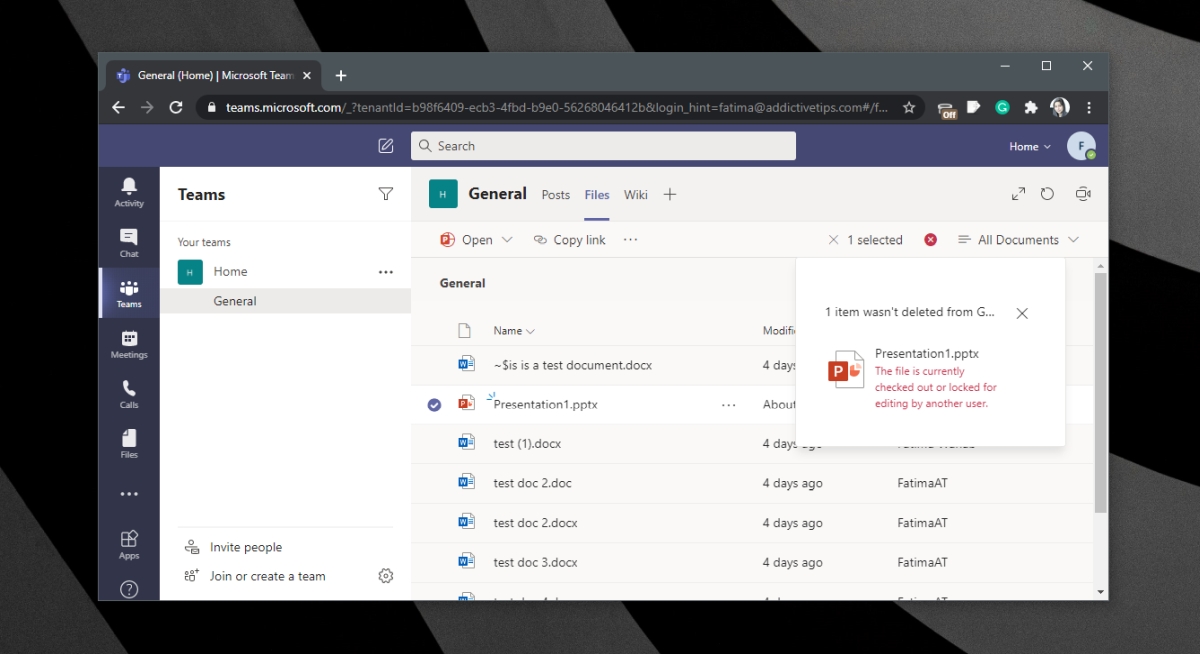 1. Ask everyone to close the file
If you try to delete a file and Microsoft Teams tells you it was unable to delete it, try the following.
Ask everyone who has access to the file to close it.
Wait ten minutes. 
Try deleting the file.
2. Restart Microsoft Teams
The Microsoft Teams cache can cause quite a few problems with the app, including trouble deleting files.
Sign out of Microsoft Teams.
Quit Microsoft Teams.
Right-click the taskbar and select Task Manager.
Go to the Processes tab.
Look for any process that Microsoft Teams is running.
Select it, and click End Task.
Open Microsoft Teams.
Sign in.
Try to delete the file. 
3. Edit, Save, and Delete
Often, Microsoft Teams thinks that a file is being edited when it isn't. It needs to sync this information so that files aren't accidentally deleted but it can end up locking them.
Open the file that you want to delete in Microsoft Teams.
Make a small edit to it.
Save the changes.
Close the file.
Wait ten minutes.
Try deleting the file now.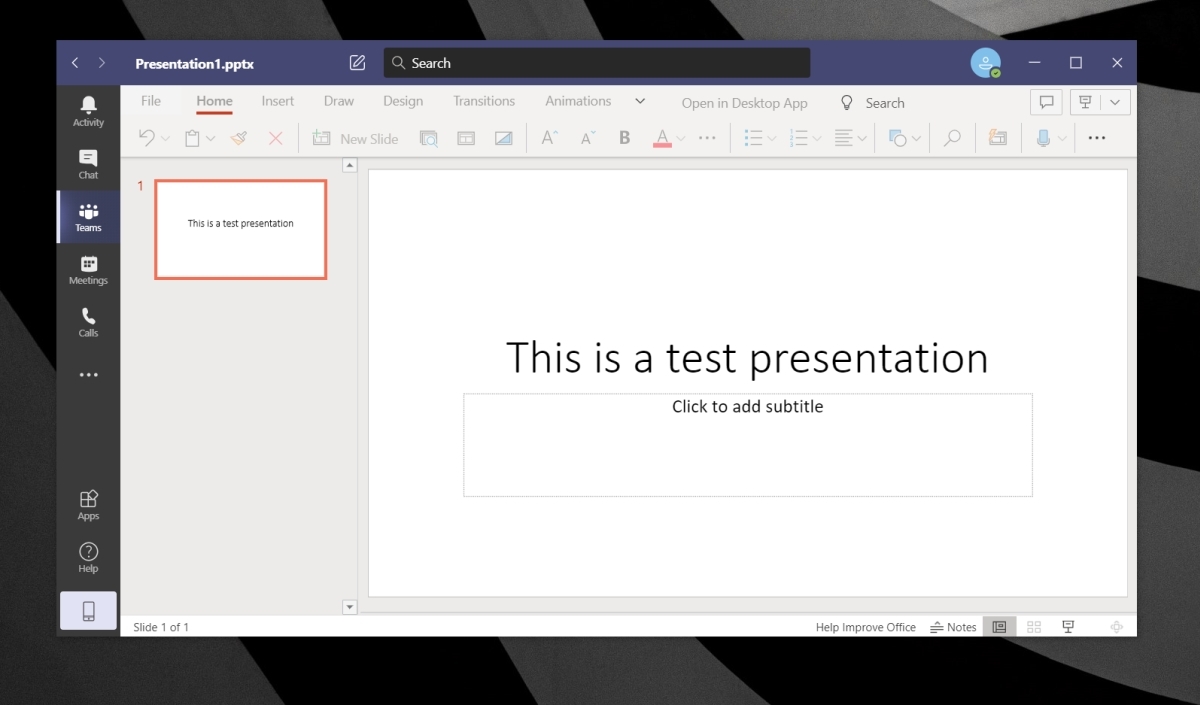 4. Quit Microsoft Office 365 apps
Microsoft Teams can open files that were created in a Microsoft Office 365 app. If you're having trouble deleting a file, quit every single Office 365 app that's open on your system, and then try deleting the file.
5. Check Out and Check In
Checking out a file, and checking it back in can allow file deletion to go through.
Open the channel the file was shared to.
Go to the Files tab.
Click the more options (three dots) button next to a file.
Go to More>Check Out. 
Once the file has been checked out, click the more options button next to the file again in Microsoft Teams.
Go to More>Check In. You can leave the comment section blank.
Once the file has been checked back in, try deleting it again.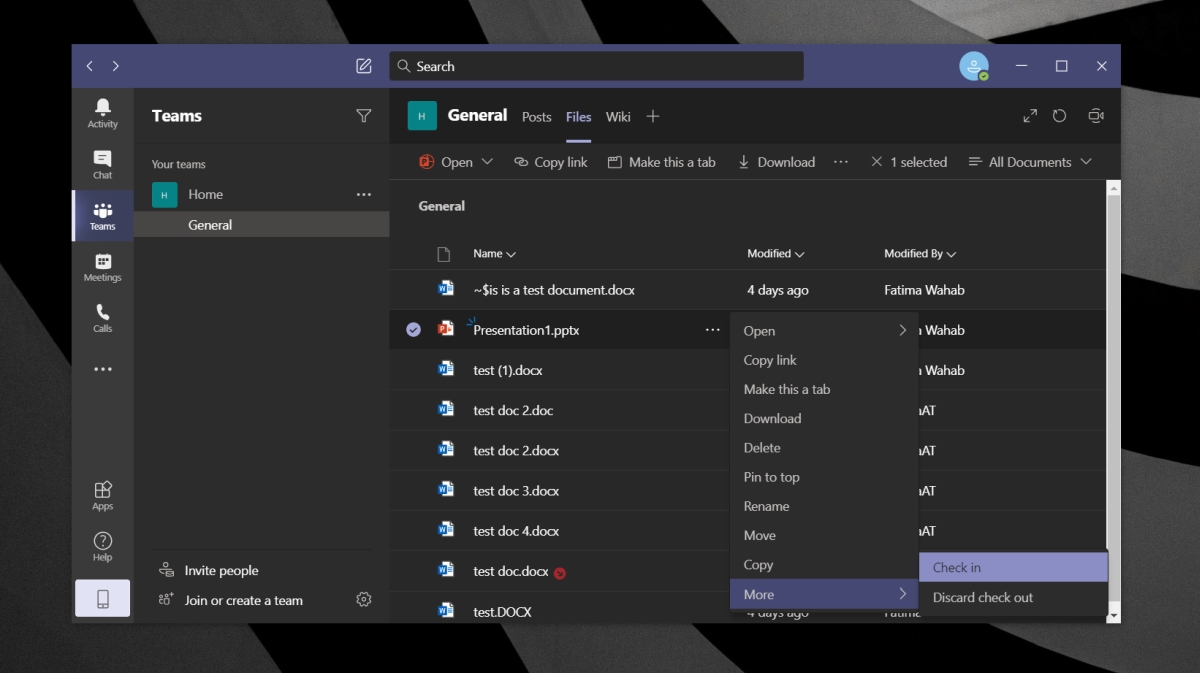 6. Have team owner delete the file
Every team that is created in Microsoft Teams has a team owner. The team owner has the highest level of privileges. If the file will not delete, ask the Team Owner to delete it. They may be successful where normal users weren't.
Conclusion
Deleting files isn't hard but the way a team is structured e.g., custom tabs that have been added, permissions in SharePoint, files uploaded to OneDrive etc., may complicate things. If the problem persists and the file has been uploaded to either SharePoint or OneDrive, try deleting it from the source.