min.us Gets Desktop And Android App For Quick File Sharing
Last year, Aatif reviewed an impeccable web application called min.us, which takes a very fresh approach to the concept of sharing photos with family and friends. min.us, at that time, let anyone upload and share images via drag & drop while allowing others to view, share and upload on the website without having to sign up for an account. Recently min.us project developer updated us about some freshly-baked additions. Out of all the improvements it now has to offer, its desktop utility for Windows, Mac, and Linux is the most significant. To top that, Android users can also download an app from the market.
Talking about the new features, you can now share anything including music, images, videos, and documents, while image galleries can be organized and maintained as well. You can add description to photo gallery, caption images, and have one dedicated gallery URL for quick access. In this post, we will be bringing min.us desktop app for Windows into limelight.
After installing the desktop app, it will silently sit in system tray waiting to be fed with files. All you need is to drop file which you want to share over its icon to begin uploading.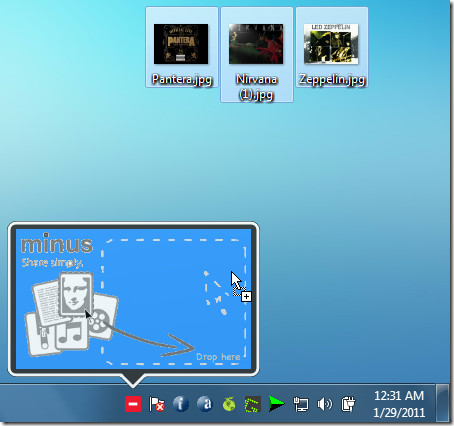 The application is very vocal and shows progress bar while uploading files to its native server.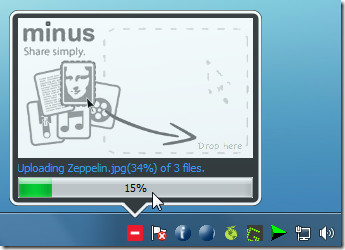 Nothing more is required than to bring up main window from system tray context menu, which shows links for both sharing and editing uploaded gallery with dedicated URLs for each uploaded file. Here, you can also enable an option to start min.us on system startup.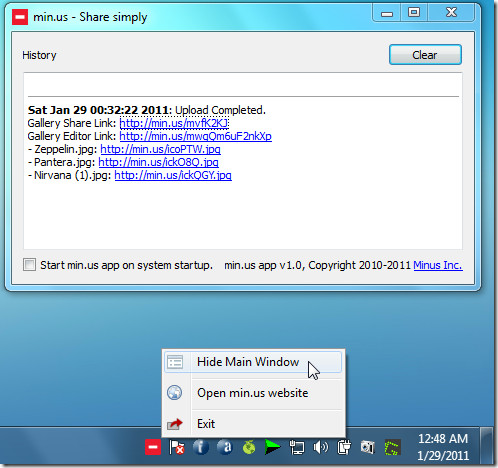 The developer has done much work on overhauling min.us web app, bringing a more eye-candy look with smooth navigation controls. On the right sidebar, gallery link can be instantly shared on various social media platforms, including Facebook, Twitter, Reddit, etc. It can also be send via Email.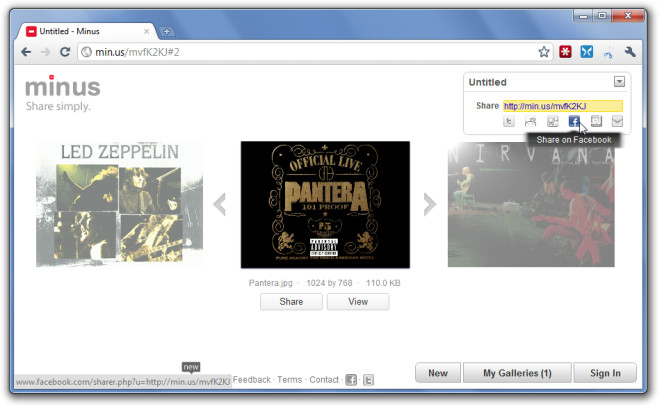 You can maintain and edit galleries from the web application. Images can be removed from the gallery, title changed, and gallery downloaded as Zip file. Since it is known for collective sharing, you can share gallery editable link with your friends to let them add new stuff to your gallery, change title, and caption images.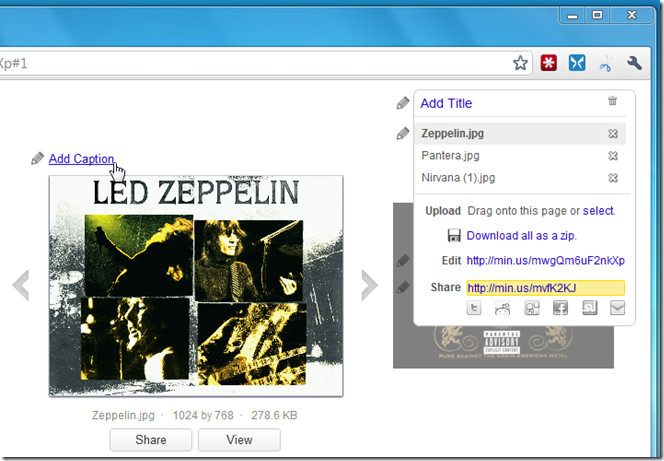 min.us has certainly improved a lot since its first release. With new and amazing sharing controls, you can keep it handy on your desktop to quickly file uploading. Versions for Windows, Mac, and Linux are available, along with an app for Android. Apps for iPhone, iPad, and Blackberry are also coming soon.