Monitor And Inspect Health Status Of SSD Drives With SSDlife
SSDlife is a free health diagnostic utility that is developed for SSDs – Microchips-based Solid State Drives. SSDs are commonly distinguished by the mechanism of storing data from other HDDs (which depends upon the spinning of disk to perform read/write operations). As data is stored on micro-chips, SSDs are considered more faster and stable than other conventional disks, thus demands separate tools to thoroughly inspect its different elements. SSDlife is one such dedicated tool which lets you view complete information about the SSD disks, shows all the technical details, checks SSD health status while an option for reporting the detailed health-related information online to get feedbacks is also provided.
For the first time usage, it checks for all the connected SSDs with your system, incase of any type of SSD detection-error erupts, it will prompt users to save a log file to review the error details later. It uses an eminent HDD monitoring system – S.M.A.R.T, which gives user detailed SSD health insight. For those who are not familiar with S.M.A.R.T, it is a reporting technology which measure different disk's elements upon multiple reliability scales.
The main interface shows all the little details of the drive which is being inspected. It gives information about total work time, free/used space, and estimated life-time. The bottom pane shows generic throughput in terms of read and write activity. To inspect the health status, just click S.M.A.R.T button to begin the inspection of drive in question.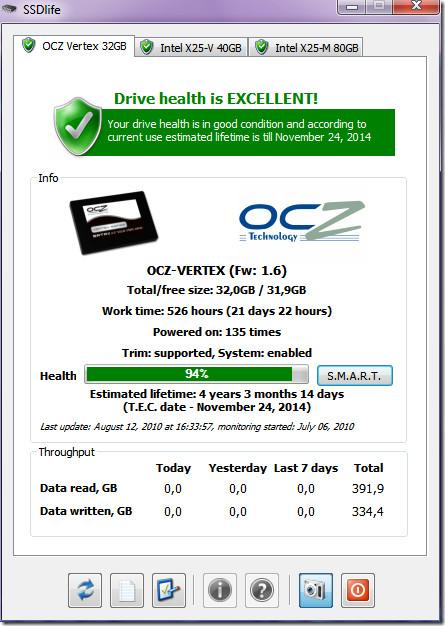 From the lower part of the window, you can take screenshot of the window and find out associated help topics. From other tabs, you can check the health of other connected SSD drives with your system in the same fashion. The free version comes with only one apparent limitation, it doesn't allow user to schedule the tests, however, if you need to keep tab on SSD drive health status after every defined amount of time, you can schedule the inspection in Pro version which costs $ 20.
The application supports Windows XP, Windows Vista and Windows 7.
If you're looking for one S.M.A.R.T based HDD monitoring utility, check out previously covered Acronis Drive Monitor