How To Root Samsung Galaxy Tab With SuperOneClick Rooting App
In case you have purchased your Samsung Galaxy Tab and waiting for it to get rooted, then the wait is over! Folks over at XDA have posted a step by step guide that can help you in rooting your Samsung Galaxy Tab without getting into much difficulty.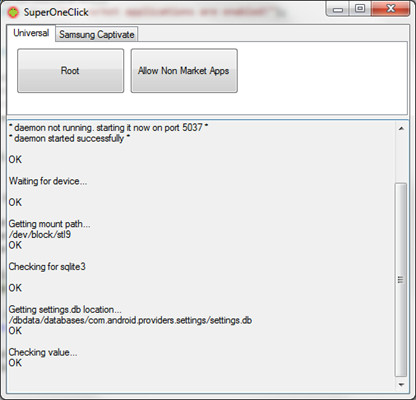 We previously posted a detailed guide on rooting any Android phone with SuperOneClick Root app and likewise, the app also roots your Samsung Galaxy Tab. Here are the step by step instruction on rooting your tab with SuperOneClick App.
The firsts step is to make sure that you have KIES installed on your computer.
Now download SuperOneClick Root App from here and save it on your desktop.
Once this is done, turn your Samsung Galaxy Tab on and connect it with your computer. Make sure that you have USB debugging mode disabled and sync with KIES.
Now disconnect Galaxy Tab from computer and enable USB Debugging mode. You can enable the USB debugging mode by Settings>Applications>Development>USB Debugging.
Now reconnect your tab again to your PC and tap the Home button so that your Tab loses sync connection with KIES.
Once done, launch SuperOneClick.exe and click on root. Please wait for 5 to 10 minutes while the application roots your Galaxy Tab.
And there you go! You now have your Samsung Galaxy Tab rooted! Unfortunately, there is no custom ROM in our knowledge until now that you can flash on your Tab. But we are hopeful that soon the Android hacking community will be out with one. Stay tuned as will post any custom ROMs that make it to surface for your rooted Samsung Galaxy Tab.