Monitor Your Child's Facebook Activity With Social Monitor
As the age of social networking reaches record heights, children are now more vulnerable to internet threats than ever before. Social networking website like Facebook are a major source of scams and criminal elements looking for potential targets. Lately, there has been a lot of concern among parents to get rid of Pedophiles from Facebook.
Social Monitor is a Facebook monitoring application, which can download important content regarding your child's Facebook profile which can help you identify if he/she is being targeted by a harmful source. This not just include criminal elements but also includes groups, friends, etc which may be disseminating explicit content.
To get started, click Add Child to start monitoring a Facebook account.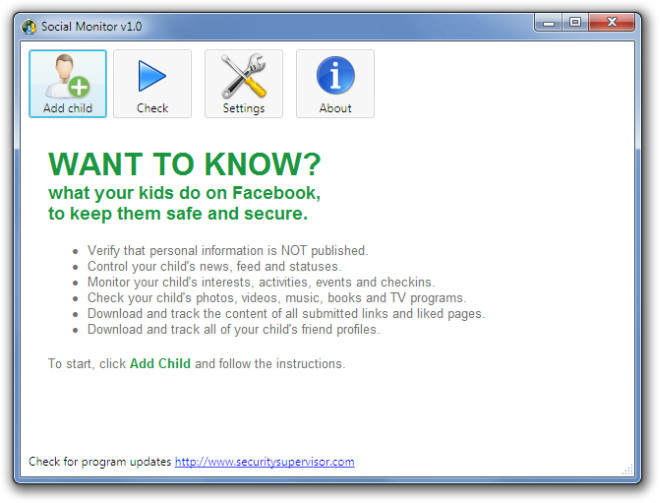 You will receive a prompt asking you the kind of monitoring that you wish to perform, the Normal Mode displays information from anyone from your Facebook list, so your child needs to be added in your friend's list. Whereas, you can use the Full Mode to get in depth information of an account, but for that you will need to enter your child's Facebook password. While the latter may appear like an invasion of privacy, however, it might be worth letting your child to authorize this application in order to ensure that he is protected. But if you want to be discreet the Normal Mode may be more suitable.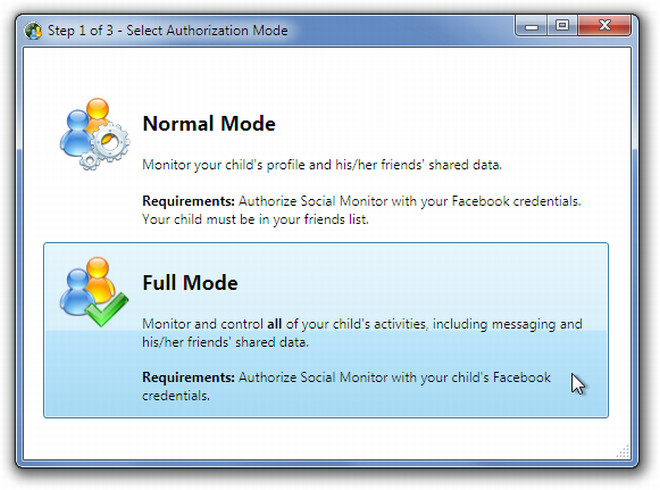 Once the app is authorized, select a user from your friend's list to monitor (Normal Mode). You will not require selecting a list in the Full Mode.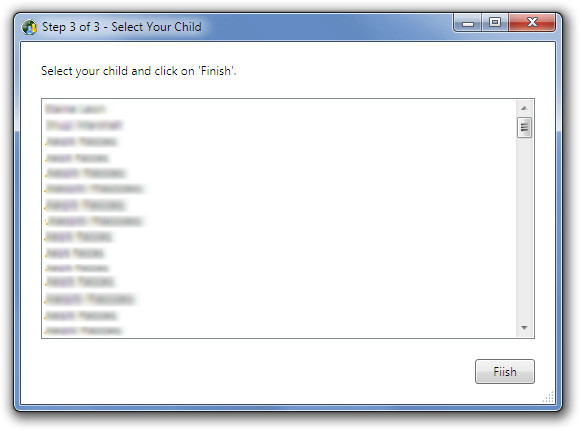 After that, you will instantly start receiving information regarding the selected user. All potentially harmful words are highlighted in red color such as words which may depict adult content. For example, if your child has liked an adult page or joined such a group, the activity will be displayed in red color. The same is true for any such status messages which may have been set by his/her friend(s). Similarly, if your child has lately shared a video or song with explicit content, it displays in the list in red color. In the full mode, even the Inbox, Sent Messages and other personal information is scanned for harmful content. You can click on the link provided in the highlighted section to open the link to investigate it further.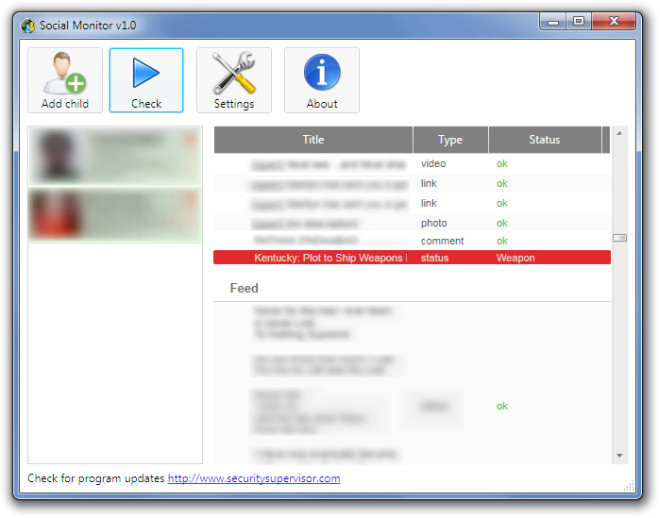 To further refine options, go to Settings and select the kind of content to monitor (e.g. feeds and links). You can also add specific words to cross reference your child's activity from Stop Words tab. For example, you may wish to check for the word weapons or guns to ensure that your child is not indulging in activities which may expose him/her to violent content.
While you might end up finding some links from Mafia Wars or movie links (such as Lethal Weapon), at other instance the information might be more disturbing. Therefore, Social Monitor is a useful tool for parental monitoring of a child's Facebook information. Multiple profiles can also be added simultaneously for monitoring them.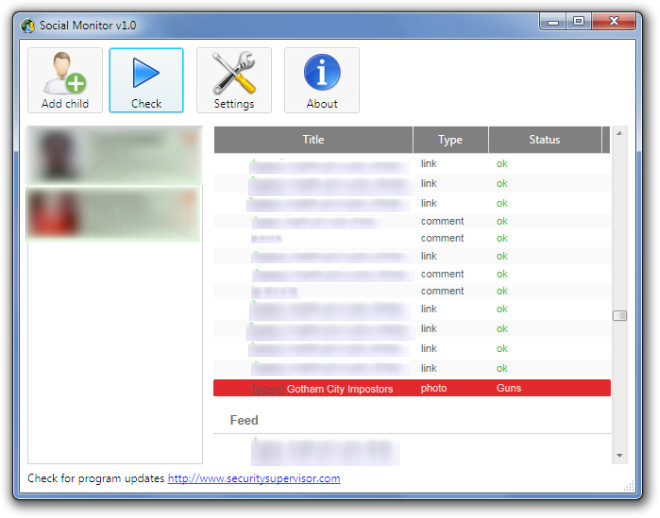 To obtain in-depth information, it might be a good idea to ask you child to authorize this application, so that you can monitor the hidden information, anytime by clicking on the Check button. Social Monitor works on Windows XP, Windows Vista and Windows 7.