Mouse without Borders Controls Upto 4 PCs With Single Keyboard & Mouse
Mouse without Borders is an application developed by Microsoft Garage which lets you share mouse and keyboard with your PCs connected on a network. The advantage of Mouse without Borders over Synergy is that you can share your mouse with 4 computers on the network without having to go through complex procedure of naming and then setting up screen positions. Unlike Synergy and other peripheral sharing applications, it includes some worthwhile screen sharing features, such as, send screenshot to connected PCs, get captured screen areas from other clients, disable screensaver on connected PCs, copy and paste items or drag & drop files between configured PCs, and lock screen of any connected PCs.
Mouse without Borders has been developed only for Windows, both Mac and Linux are not supported at the moment. The first step involves installing application on the system where the keyboard/mouse is connected (the one that has to be shared with other systems). Launch the application and in the Welcome screen, click No, to generate a security code with your computer name. Now copy this information since it will be needed to pair other computers on the same network.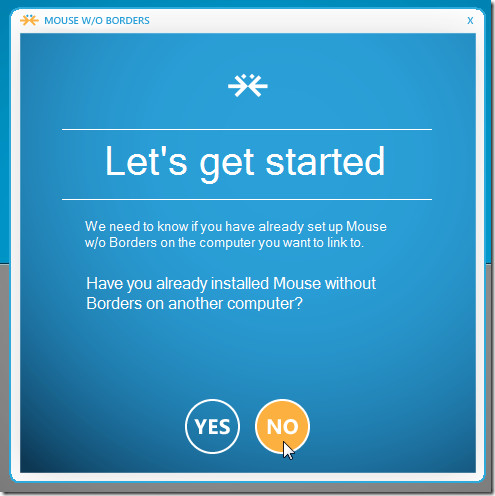 Install Mouse without Borders on other computers that are to be linked with the primary computer, click Yes on the Welcome dialog box and enter previously copied computer name and security code. This will begin establishing connection between the computers. Keep in mind that computers which are to be linked have to be on the same network, otherwise it will fail to initiate a connection request.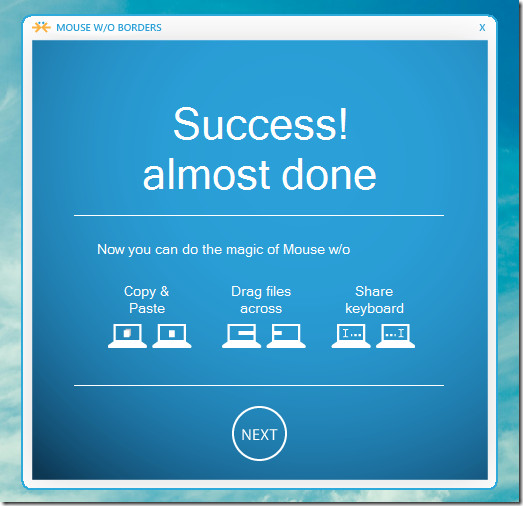 Mouse without Border works from the system tray.  The Get Screen Capture from and Send Screen Capture to options let you share screenshots with connected PCs, whereas, the Personalize Logon Screen feature allows changing the default login screen.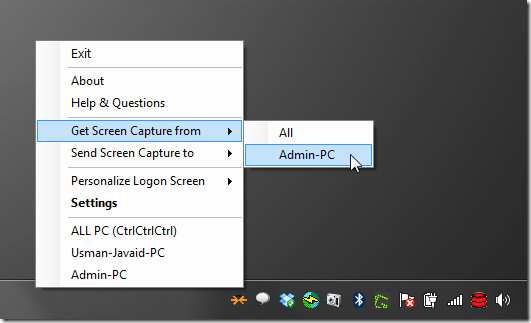 In Settings window, under Machine Setup tab, you can change the mouse sharing network connection options, view your security code to share with other computers, stop connection with already connected PCs, and reset all connections.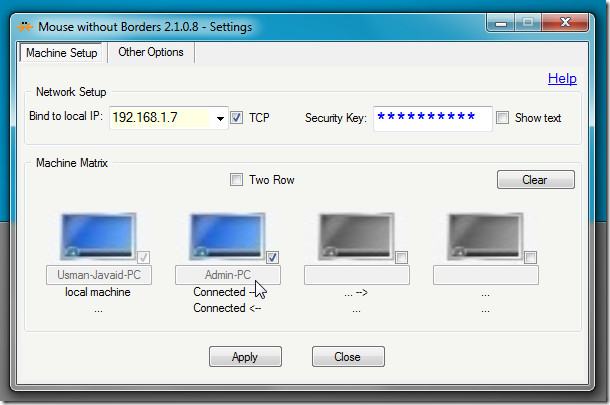 In Other Options tab, you can toggle Wrap Mouse, share clipboard, hide logo, block screen saver, disable Control-Alt-Delete on/off. The keyboard Shortcuts section enables you to set hotkey combination for different actions, such as, lock the controlled machine, reconnect to systems, switch to PC mode, and to exit the application. The function and numeric keys lined up at the top let you switch to other systems in the list via pre-defined Ctrl+Alt hotkey combinations.
The mouse and keyboard sharing features are quite similar to Synergy. However, Synergy doesn't offer many of the advanced features that Mouse without Borders does. The only downside of Mouse without Borders is that it can only share mouse and keyboard with PCs. Macs are out of question for now.
You can watch the Mouse Without Border introduction video below, which also shows some of its features in action.
Mouse without Borders is a great addition to a list of must-have tools. Using its drag and drop functionality, locking individual screens, and sharing clipboard and screenshots, users will feel as if they are using a single PC with extended desktop. It works on Windows XP, Windows Vista, and Windows 7.
Download Mouse without Borders