Multithreaded TEncoder Video Encoder Can Hardcode Subtitles Into Video Files
Do you use Handbrake, Format Factory, or other like tools and feel intimated by the options and audio/video parameters they offer to convert videos between different formats? You can try TEncoder for your routine video encoding needs. It's an open source video encoder that supports multi-thread technology to make multiple video conversion process not only fast but seamless as well. It has the capability of converting video between 9 different formats, including, Xvid, FLV, H264, WMV, MP4, MPEG 2, etc. Unlike many other video encoders, it uses FFMpeg and Mencoder codecs to convert videos without erupting any major conflict while converting the video formats. TEncoder comes useful for those movie junkies who love to pack ripped movies with their subtitles into single video file. If you're among heavy video encoders, TEncoder provides you with a facility to run 8 separate encoders to convert vides in relatively less time.
It offers all the features and options, including, audio and video parameters, number of processes, encoder list, subtitle format, etc on the main interface. You can add a single file or add video folder (or whole folder tree) to specify videos which are to be encoded.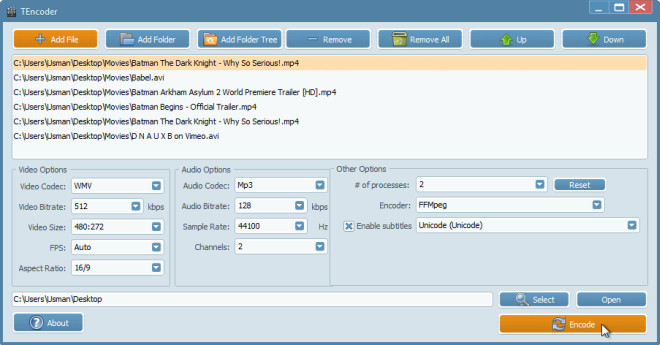 Once you've added all the video files, set video and audio options, select number of processes, encoder, and subtitle type (if SRT or SUB are already inserted). From underneath these options, select output folder and hit Encode to begin video conversion process.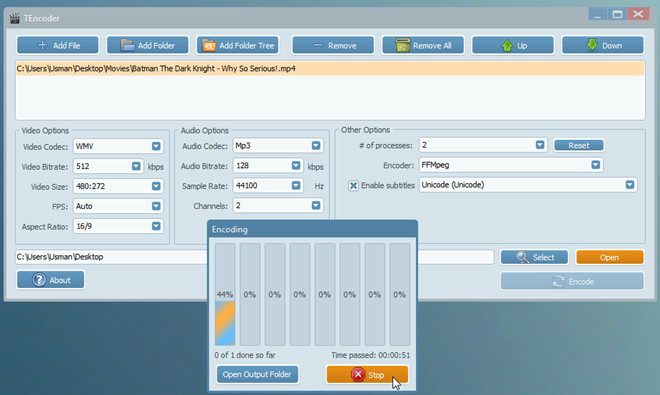 In Encoding window, you will see number of encoders that are being used. TEncoder proves to be handy video encoding utility, but can't hold candle to HandBrake and previously covered Oxelon. However, it's suitable for converting video files between widely used formats, such as, MPEG 1, WMV, FLV, MP4, H264, etc. As far as conversion speed is concerned, it encoded 4 big video files having around 400MB size in less than 8 minutes.