music2pc: Download Music From A Library Of Over 100 Million MP3 Songs
Whether listening to music while working increases or decreases productivity is a much debated topic. According to some studies, listening to music seems to impair task concentration as well as the ability to remember, while others believe it helps in drowning out the background noise, thus resulting in more concentration and better work performance. Personally, I also listen to music while working, and in my opinion, it allows more concentration as long as the track is not too distracting. In the end, its all about what you are used to while working. If you belong to group that listens to music while working, we have a music downloader for you today. music2pc is a portable application for Windows that allows you to download your favorite music from a massive library of over 100 million MP3 songs.
The application lets you search and download MP3 songs from the internet. According to the product page, there is a library of over 100 million MP3 songs. The songs are downloaded at high speeds, and can be played from the application once the download is complete. The developer lists the following features of the application:
Download over 100 million mp3 songs with unmatchable speed, best output quality
Safe, non-bit torrent and non-peer-to-peer sharing method
Find any music easily, only with the song title, artist name, album or edition
Safe to install and run, no malware, no ads, no viruses
The hugest selection of publicly available tracks
Search the live, piano, guitar or cover versions of your favorite songs
Compatible with all portable devices: iPad, iPhone, PSP, cell phone, mp3 player etc.
Multi-thread downloading, download multiple songs at the same time
Download the hottest songs across all genres, from electronic to religious, mainstream to indie, hip-hop to classical, etc.
Simple and intuitive interface ensures you to easily get any music you want
Downloading a song is very simple, just enter the artist's name or track title in the search bar and click Search button at the top of the interface. All the related matches will be displayed below it. Each song will be displayed with its Artist Name, Song Title, Duration and Status. Under status, select Download to begin the download process. Once the song is downloaded, select Play to play the song. music2pc does not have its own music player and the Play button will open the song in the default Windows Media Player. You can specify the download folder at the bottom of the interface.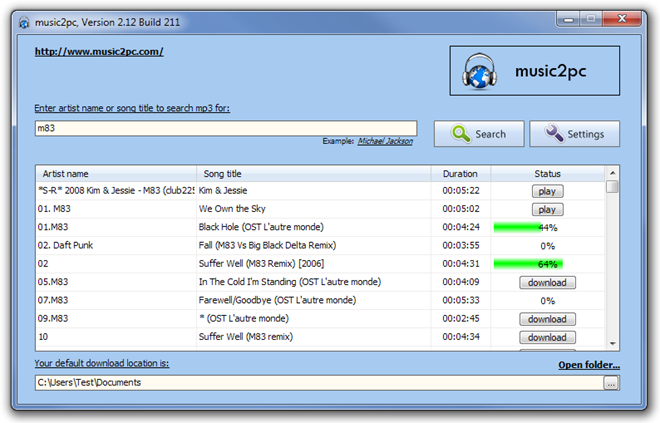 music2pc is similar in function to the previously reviewed Songr, but other than the Artist or Song title search, Songr lets you search for songs by entering lyrics as well. music2pc is available for download in both portable and installable versions. It has a memory foot print of 8 MB, and works on Microsoft Windows 2000, XP, Vista, Windows 7, Windows 2003 and 2008 Server.