My Movie Library Categorizes And Keeps Track Of Your Movies
Organizing a huge collection of movies is undoubtedly difficult especially when you want to catalog movies which you wish to watch with those which you've seen in the past. Many movie catalogers allow only managing movies information which is quite laborious, as one has to manually input each movie name to create a list. My Movie Library is quite different from other movie managers. It not only manages movie information in a smart list but lets you specify movie archive, so all movies can automatically get added without involving much hassle. Since users have tendency to lose track of already watched movies, with My Movie Library, users just have to select the movies which are to be added into list and it handles the rest without requiring any input. Once movies are specified, it fetches complete information, including director, year of release, cast, ratings, etc., from IMDb.
Running it for the first time requires you to create a list of movies. Movies information can be added in two ways. You can go for specifying movie titles which you'll watch in future by clicking Add Movie on toolbar or you can specify movie archive folder to catalog your movies collection.
In Add New Movie window, specify the movie name and click Search to get matching results from IMDb. Now select the most appropriate movie title and hit Get Info to fetch the information about the movie in respective input fields.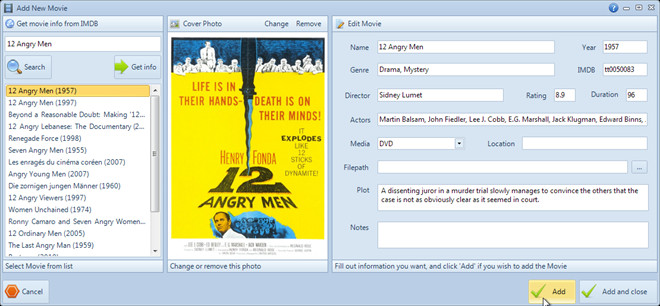 In Similar fashion, you can add as many movies as you want. Once added, close the window to view added movies in the main interface. It shows all the basic information regarding the movie, such as, Release year, Genre, Rating, Actors, Director, etc in columns, with option to edit selected info anytime.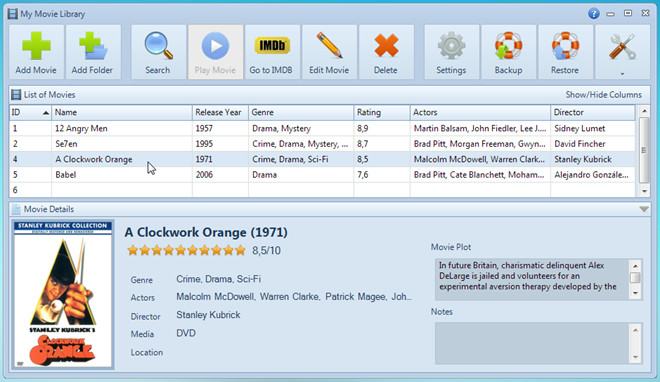 The best part is maintaining your movie collection in an organized list. To do so, click Add Folder and specify all the movie folders. Once added, it will show  the movies with utility of fetching correct titles and info from IMDb. From the bottom pane, select the movie and click the empty button present at the extreme right side to search movie title from IMDb movie database. Once suitable title is selected, click Get Info to add the movie in the catalogue.
The movies which are added in this way can be directly played. Just select the movie and click Play Movie to watch it in default media player.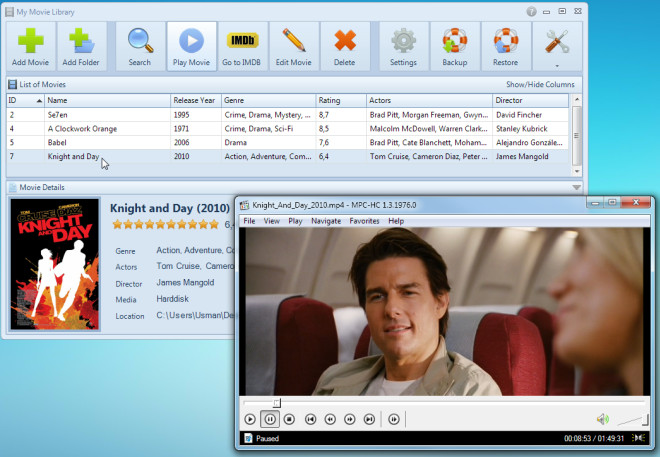 My Movie Library has proved to be one excellent movie cataloger. Nevertheless, we faced some interface specific glitches during testing. We hope that developer will add more options, make interface more smooth, and fix other issues in coming releases.