Name Dropper: Drag & Drop Text To Batch Rename Files & Folders
If you've recently taken a vacation or just like to take a lot of pictures then it is likely you know how difficult it is to organize images taken either from your digital camera or phone camera since they are all saved with the same name prefix with a number appended after it. Renaming these files can be a pain because you have no choice but to rename each one individually. While this may occur most commonly with image files, you might need to rename a number of other types of files too. Name Dropper is a desktop application that allows you to rename files and attach an incremental number to each one by dragging & dropping the name on to each file.
The application allows you to rename any kind of file; image, multimedia, document etc. To rename files, drag & drop them on to the application's interface. The application allows you to view the files in several layouts, to remove a file right-click it and select Remove selected files or Folders. You can reorder the files by dragging & dropping them.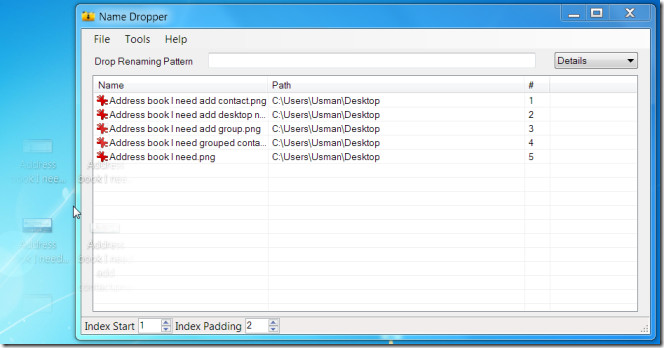 To rename a file, you will have to drag & drop the new file name either from your browser or a text editor (notepad does not work). Type in the file name you want to give to a file, select it and drop it on to the file's tile or thumbnail in Name Dropper. To append an incremental number and add the same name for different files, use the syntax File name <#>. The hash sign will add an incremental number at the end of the file name so you have files named as File name1, file name2, file name3, and so on.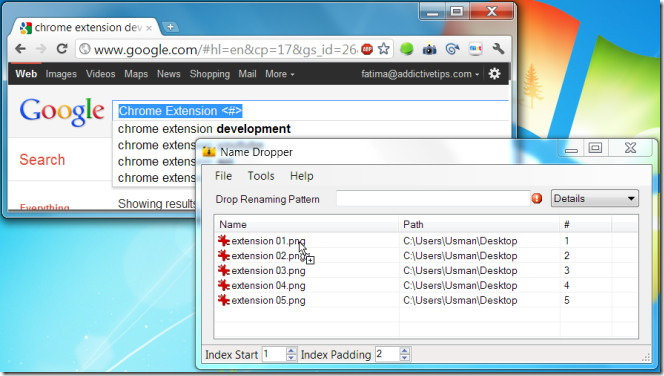 If you would like to add text to the file name, i.e. you have a series of image files named image1, Image2, Image3, etc and you want to name them to File Name Image1, File Name Image2 etc., use the syntax File Name <0>.
Type whatever you want to rename a file to and use the appropriate syntax. Type in your browser's URL bar or even the search field on Google, select it and drag your cursor on to the application's interface and on the file you want to rename. While you will have to drag & drop the file name on to each file individually, it is, nevertheless easier than renaming them the conventional way.