NextPVR Is A Personal Video Recorder, Player & Media Management Center
Managing your media is very important for you to quickly find what you are looking for instead of wasting time in searching for the required music, video or image file. NextPVR is a Windows application that works as a personal video recorder, media center and media manager for you. It allows you to watch your favorite videos, listen to music and view images. If it's a DVD or something you have got stored up in your collection in the hard drive, NextPVR plays it all. You can either play the files stored in your PC, or access the ones stored on other devices all across your home network. There is also a web interface which allows you to schedule and stream media from a remote location.
Other than the basic application, there are also plugins available on the product page to enhance the user experience, providing you with features such as weather, internet radio and RSS Reader. You can specify custom folders where your images, audios and videos are saved. You can toggle the interface view between horizontal and vertical style, specify recording directory, add and setup devices and completely manage your available and recorded media.
The interface of the application is pretty simple. You have TV Guide, Recordings, Live TV, Search, Music and Videos tabs for accessing different types of media folders.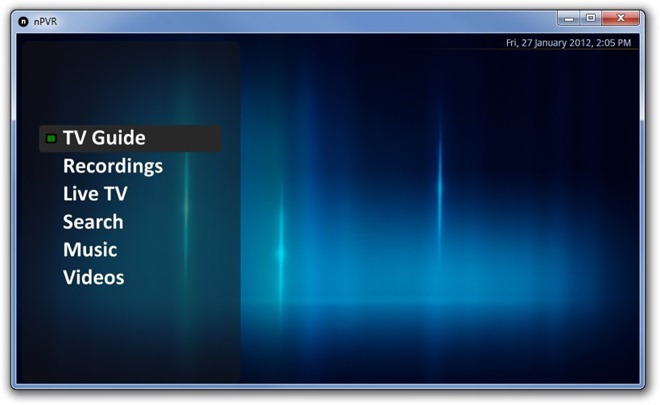 The application has a built-in audio and video player, which allows you to play files without needing different external players for playing various formats.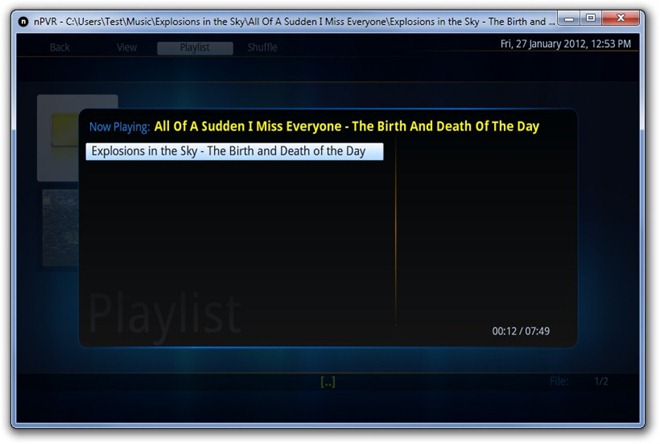 The subfolders inside the parent specified folders for audio, video and images are displayed neatly and can be accessed from the main interface.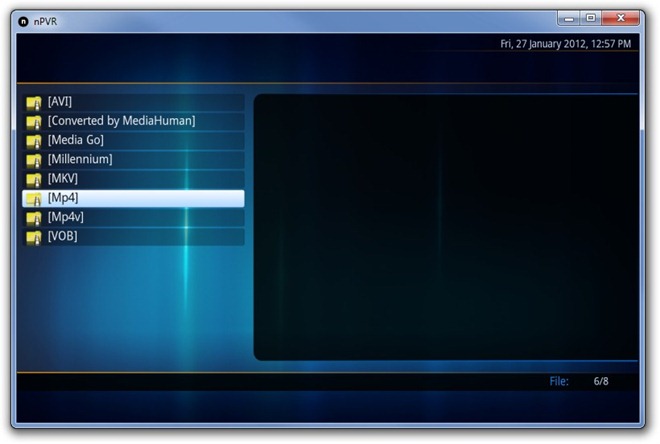 Right-click inside the NextPVR window and select Settings to configure the application. The tabs at the left allow you to specify settings, such as Skin of application, interface Style, TV Shape, Add & Manage Devices, define Recording settings, including Initial Recording List, Recording Directory, Recurring Match, Default Padding and Import/Export Recordings, Add & Remove media folders, and several other options.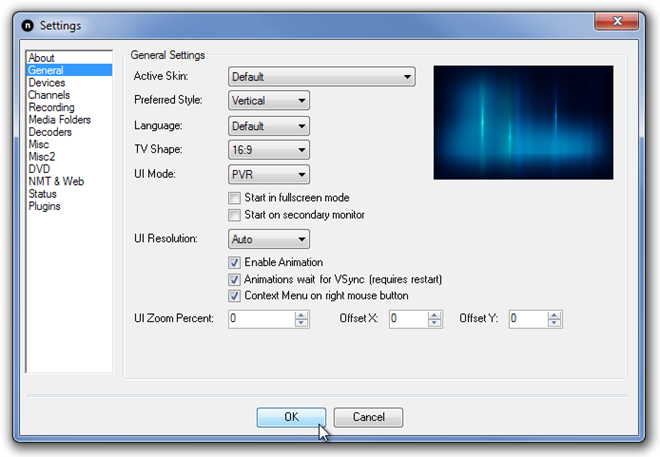 During testing, we found the application to have some issues in stability as well as usage. It tends to lag when switching between folders, and forces you to restart the application in order to apply some of the changes. Apart from that, it can use an interface uplift as well. You can also check out Remote Potato that allows you to access your media from local, as well as remote locations. NextPVR works on Windows XP, Windows Vista and Window's 7.