OUTDATEfighter Is A Windows System & App Updater With A Built-In Uninstaller
OUTDATEfighter is a freeware Windows utility from SPAMfighter that keeps an eye on all the installed applications on your PC, and notifies you upon a software's update release. The application can prove to be incredibly useful in situations when you don't want to update each and every computer application separately. If your PC is loaded with a wide-array of apps, OUTDATEfighter takes the burden off your shoulders by downloading and installing latest versions for you. The utility also comes packed with some additional features including a Windows updates installer and an integrated application uninstaller.
Since downloading software installers separately creates quite a mess particularly in the downloads folder, OUTDATEfighter saves this hassle by keeping the setup files under the 'temp' directory and removing them upon successful software installation. The interface looks pretty decent, though it shows some unobtrusive advertisement links at the top regarding SPAMfighter's other apps. To check for updates, just click the 'Scan for Program Updates' button under Home tab and bingo! OUTDATEfighter will perform a deep scan of your machine to find the outdated programs.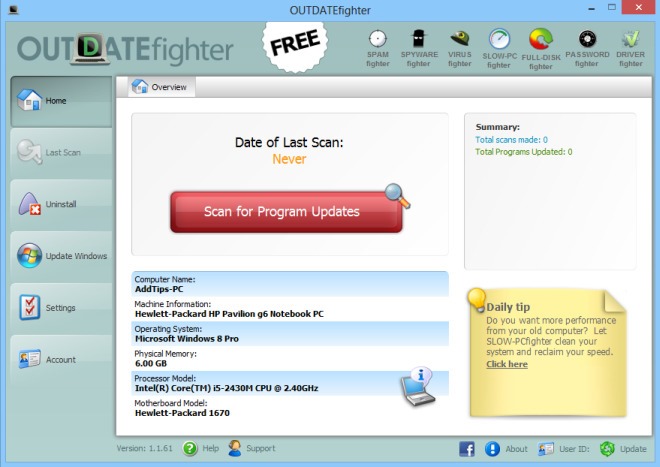 The scan results then appear under the Last Scan tab (the tool automatically switches to this tab after scanning), letting you know about the outdated apps. The only effort requires from your side is to select the programs you want to update and click the (mistyped) 'Updated Selected Software' button. You can even download the latest version of any of these applications by clicking the pertaining Download button for that program's entry. Furthermore, you can choose to ignore future update reminders for any app by clicking the Ignore button after highlighting it.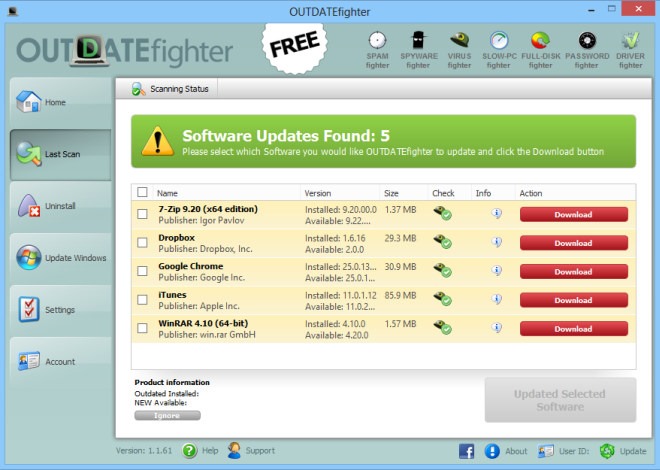 The tool also features a built-in uninstaller that enables you to remove existing apps. Though it's pretty basic, and merely helps you to remove your programs by clicking the Uninstall button next to their name. Unfortunately, you won't find any punchier features here like deep scan for removing leftovers and traces, which you might have seen in applications like Geek Uninstaller.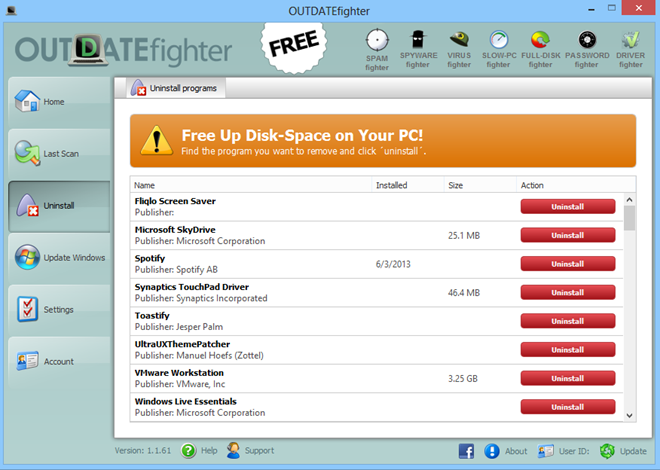 On the flip side, the Update Windows option can come handy for instantly checking latest Windows update releases from Microsoft. Moreover OUTDATEfighter displays important and optional updates separately from each other, akin to the default Windows update program.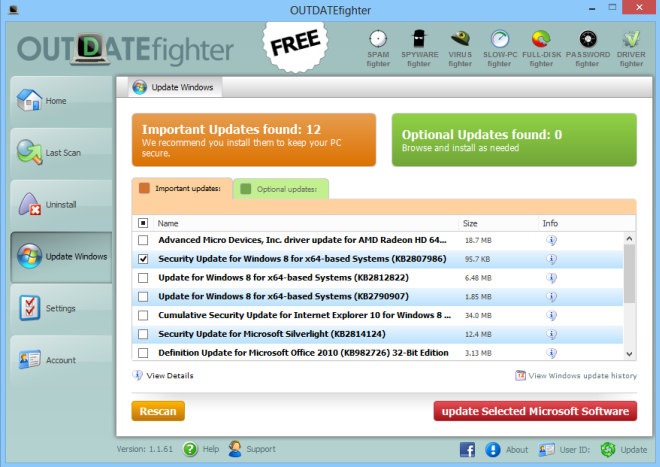 The Settings tab lets you configure a few application-specific option under General Settings pane. You can change the language, check for updated version of the tool, specify the start up behavior etc. In addition, you can take a peek at your Windows updates history, and manage your Ignore list.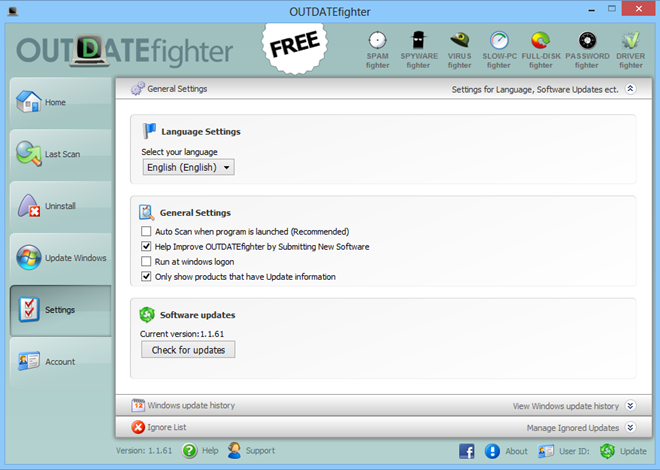 OUTDATEfighter works on Windows XP, Windows Vista, Windows 7 and Windows 8. Testing was done on Windows 8 Pro, 64-bit.