Send Image Windows Explorer Shell Extension [Outlook 2010/2007]
While trying to find a Windows Explorer shell extension for Windows 7 that can quickly resize the image(s) and email them via Outlook 2010, I stumbled on SendImage, a context menu shell extensions developed back in Nov, 2003.
Before we talk about this extension, lets see why such a tool can be useful in our daily life. When you need to send some photos to friends or family via email, the best way would be to attach them with the email. This could be a tiring process, and the receiver will also be annoyed by downloading the images one by one.
The best way to send photos via email would be to add them inline, i.e, render them with HTML and add them inside the body. GMail introduced this feature some time back, but SendImage could do this since Outlook 2000.
Once installed, it will add the option to send images in the windows explorer right-click context menu. Simply select the image size, position of the image, and hit Send. It will automatically resize the image and open Compose(Send Email) window in Outlook 2010(or any other version of Outlook except Outlook Express). The image will be shown inline(in the message body) and can be positioned anywhere you desire.
You can also select multiple images and after resizing they will be automatically added in the message body.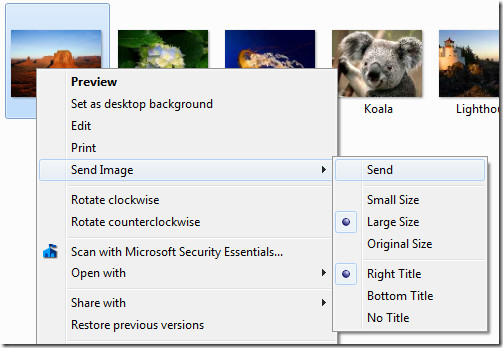 The shell extension only works with 32-bit OS, 64-bit is not yet supported. Since the shell extension has not been updated since 2003, you can grab the source and make it compatible with 64-bit version as well(if you do so, let us know).
There are two setup files given – setupxp.exe and setup.exe. The former is for Windows XP, Windows Vista(32-bit) and Windows 7(32-bit), while the latter is for all versions of Windows before XP.