Password Security Scanner: View Passwords Stored In Windows Apps & Check Their Strength
Most Windows applications including Google Talk, MS Outlook, Firefox, Internet Explorer, Windows Live Messenger etc, which have login input form, allow users to save the username and password, so they don't have to enter their login details every time to login in to the application. Since Windows doesn't have an option to list all the saved login details to verify the username and password integrity, you may need an application that lets you check all the saved passwords from one hood. Password Security Scanner is a standalone application from Nirsoft, which finds all the saved login details, letting you check the password strength and other like attributes to verify the integrity without having to manually extract login details from applications.
The application doesn't show the saved passwords; once launched, it lists down the applications with respective user names, while showing password-related security information including number of lowercase/uppercase, repeating, and numeric, non-numeric characters in password. This information may help you check the strength of stored password for all desktop and web applications. To begin, unzip the download package, and run the PasswordScan.exe executable file. It will take some time, which depends upon the number of applications in which login details are saved.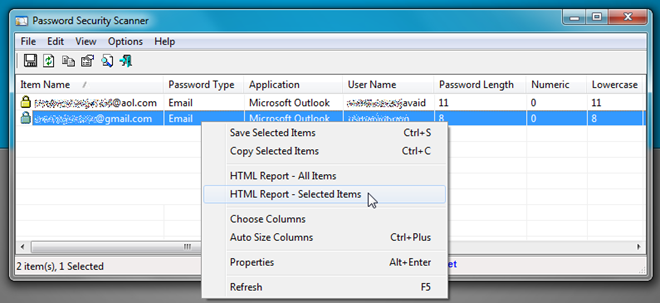 If you want to filter the list by number of characters in password, click Advanced Options from Options menu. It lets you display items with password length lower than specified characters and those items whose password strength is lower than specified value.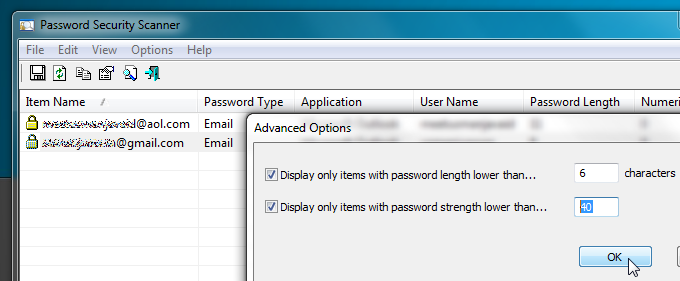 You can view complete password strength information by double-clicking the item in the list. It will open a separate dialog with all the password strength attributes, so you can check the username, PC user, and verify password strength.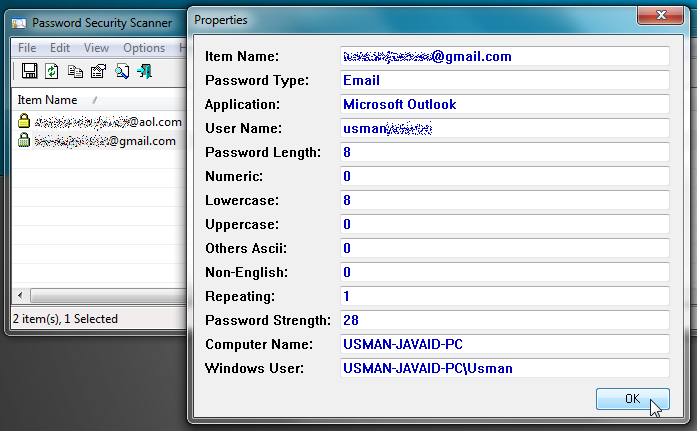 Password Security Scanner is a multi-lingual application that works on all version of Windows. Both 32-bit and 64-bit OS editions are supported.
Download Password Security Scanner