Pin Multiple Folders On Windows 7 Taskbar
The most noticeable and immaculate feature of Windows 7 is indeed its taskbar. It is as robust as previous versions of the taskbars and offers a new way of interacting with the applications. You can pin any shortcut so that they can be accessed right from the taskbar rather than the desktop or start menu search bar. But like any other things there is one shortcoming, you cannot pin your folders to it, which you might want to if you access them more frequently. Here is a great way to access your favorite shortcuts right from your taskbar in Windows 7.
7Stacks is a small and handy utility for Windows 7 that lets you create stack items which are more like standalone shortcuts. These stacked items behave like executables, which give an added advantage to use as many shortcuts as you want. The application requires only the source path of the folder to pin it to taskbar. Additionally, you can choose to caption the pinned item, select required stack type, create shortcut on desktop, and tweak other settings.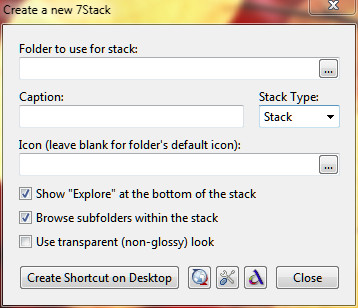 To create a new stack item, browse to the folder you want to use as a shortcut and give it a caption, and it will create a shortcut that you'll be able to use it as any pinned regular taskbar item. For a change you also have option to view the contents of the folders as Grid or Menu view.

If you think that folder icon is a bit boring, you can also change it to Vista – esque glossy icon by selecting the option of Use – Transparent look from the main menu.
Wasn't it quite easy notching up the taskbar a bit? Enjoy!