Pomodoro Technique Timer With Task List On Your Desktop
In the fast paced world of today, time is the most valuable asset for anyone, especially workers. Through effective time management, one can get things done without getting over-burdened, and still have time for their personal life. One of the best time management methods is the Pomodoro technique, devised in 1992 by Francesco Cirillo. Even if you're not following it at present, or are an active user of this technique, Pomodairo is an application that can help you with getting your digital tasks done efficiently.
It is a free, Adobe Air application with pleasing aesthetics interface and useful, easy to understand functionality, especially if you are aware of Pomodoro technique. The application contains the obligatory timer and a task list for pomodoros. It keeps track of your pomodoros, unplanned tasks and interruptions during the day.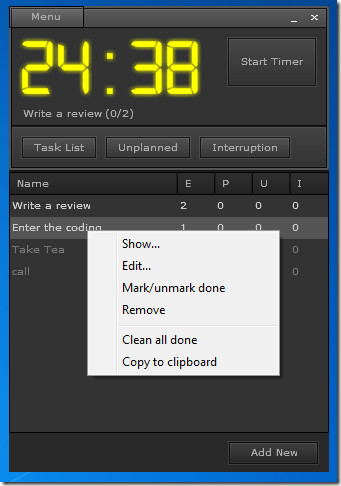 You can enter new tasks, and if an unplanned task comes your way, the program also takes care of that. Interruptions can also be accounted for, all with an estimated time of completion. Pomodairo has been designed keeping in mind the principles of Pomodoro technique, and it follows them to the letter.
Under the menu button you can find your statistics, preferences for the program and experimental Twitter integration. The preferences dialog grants you control over some of the application's settings, like volume enable disable, taskbar updates, length of the timer, and so on.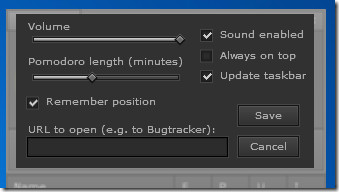 Since this is an Adobe Air application, make sure it is installed on your system. We tested the program on Windows 7 32-bit system.