PowerPoint 2010 Broadcast Feature
Microsoft PowerPoint 2010 has the ability for you to broadcast your presentation over the Internet for remote view or for viewers over the network. This allows you to show presentations even if there is no projector available. All you need is a Windows Live ID!
The PowerPoint broadcasting feature allows you to quickly share your PPT presentation. For this purpose you can either use a public "PowerPoint Broadcast Service"or an internal SharePoint server. The PowerPoint Broadcast feature generates a URL which you can email or share with your friends and they can watch you deliver your PPT presentation right from their browser.
Once you are ready to deliver the presentation, hit the Broadcast Slideshow feature under the Slide Show tab.

Now hit the Start Broadcast button, you can also change the default broadcast service from the Change Broadcast Service button. On the second step, specify your Windows Live ID.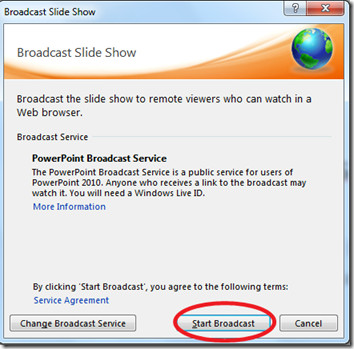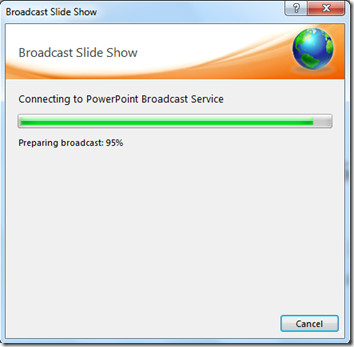 Once it completes the configuration, it will let you know the URL which you can share with the remote viewers. You can email this URL directly from the Send in Email link.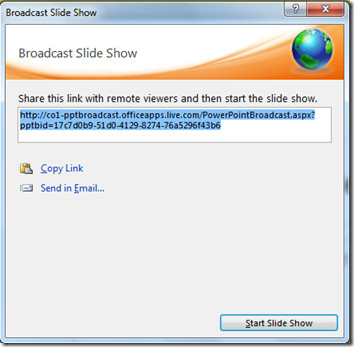 That's it, hit the Start Slide Show button and your viewers will be able to see your presentation live in their web browsers. Once finished with the presentation, hit the End Broadcast button to end the session.