Protect Files On Your USB From Accidental Deletion & Modification
USB flash drives are one of the most popular data transfer media these days, and while their massive use brings great ease of use, it also puts data at the risk of loss, corruption, theft and such other hazards. However, to those who have experienced it, nothing appears more devastating and unfortunate than to have your flash drive accidentally formatted, deleted or modified, resulting in irrecoverable loss of precious data.
USB Write Protect is a very small, portable tool that makes your USB flash drive unmodifiable, meaning that nothing can get accidentally or intentionally deleted or modified.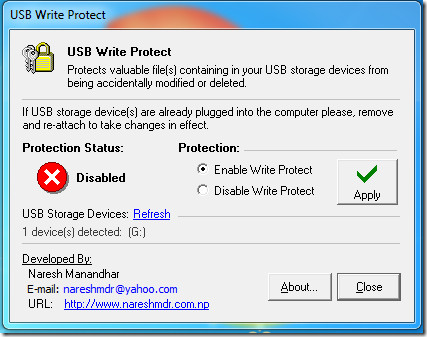 Using this tool is even simpler. Since it is portable, you can carry it around in your flash drive itself. Run the program, select enable write protect (your USB drive must be plugged in at this time) and click apply. When you want to bring the drive back to write state, select disable write protect and click apply. That's all.
The tool comes in at a very handy 12 KB in size, and works with Windows XP, Vista and 7.