Puran Utilities: Feature-Laden PC Maintenance And Disk Cleanup Suite
Scouring the internet for some frequently used Windows utilities isn't, very often, easy, and sometimes, we wish we had a magic wand to instantly find the very thing we are looking for. With Puran Utilities at disposal, consider your wish granted. It's a compendium of various useful utilities that one requires to keep their PC spick-and-span. The software comes packed with a plethora of tools, including Disk Check, Uninstaller, Startup Manager, Disk Cleaner, Registry Cleaner, Duplicate File Finder, Shutdown Timer etc, which you usually have to download from various different websites, scattered across the World Wide Web. Generally, I don't trust such applications that pile up a wide array of features under one package, but rarely do any good for your PC. Keeping my notions aside, I went ahead to see if Puran Utilities can be an exception.
The package includes a collection of 20 different maintenance utilities, called Apps. Some of them look quite useful, while others seem to be there just for the sake of, well, sprucing up more features. The interface is simple yet user-friendly, and you can instantly execute any App from within the main window. However, Puran Utitlies also allows you to run Batch Fix or Maintenance Wizard modes, which, in turn, execute a series of related Apps for automatic cleanup and PC optimization, respectively.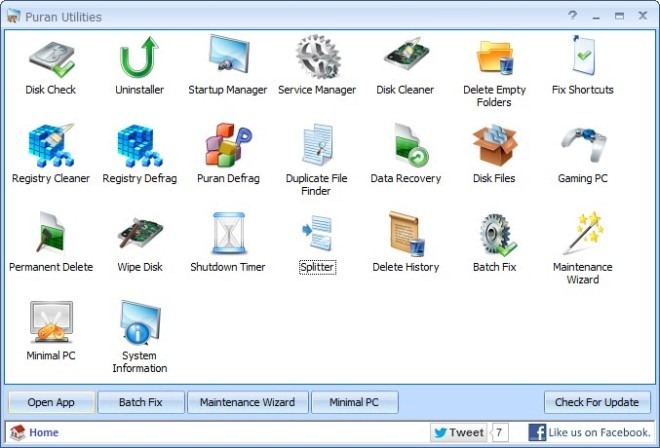 For instance, Batch Fix lets you manually select the disk drives and related Apps, and then click Scan, Fix or Scan and Fix buttons to begin the process. Apps that you can run in Batch Fix mode consist of Disk Check, Disk Cleaner, Delete History, Delete Empty Folders, Fix Shortcuts, Registry Cleaner, Registry Defrag and Wipe Disk. You may also click Configure at the bottom left corner to access a few Scheduling Options. This enables users to specify a custom time event at which they need to auto execute the batch fix operation.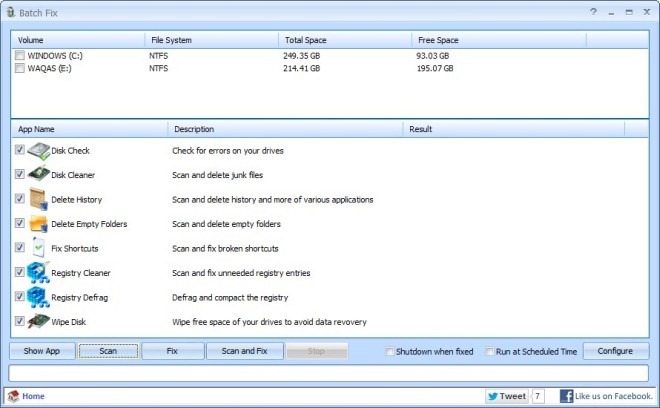 If you aren't quite satisfied with Windows 7's integrated application uninstaller, Puran Utility has an alternative solution for you. Although it isn't very feature-laden, the Uninstaller includes some extra settings, such as Remove Entry, Export List and Force Uninstall that are not found in Windows' native uninstall utility.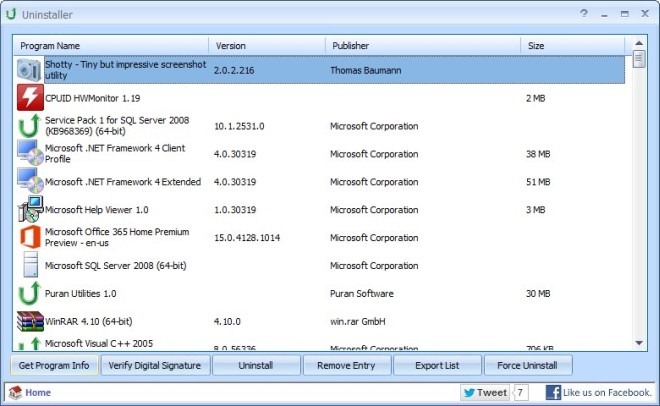 Well, you would already know that simply deleting files from your hard drive always isn't enough. The best way to get rid of them is to shred them. Puran Utilities includes a Permanent Delete app to give you a helping hand. You can simply add the files you want to shred, and then specify 1 Passes, 3 Passes or 7 Passes filters to permanently delete them.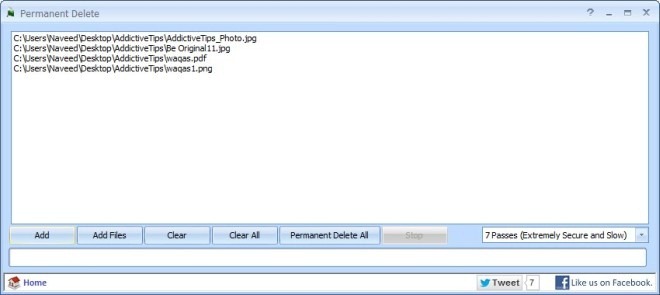 Other handy apps I found in this software include a Splitter to split files into multiple parts, Delete History for wiping internet history from multiple web browsers in one go, and Duplicate Finder to erase file clones from your PC. It should be noted that I only tested some of the salient features of Puran Utilities, while it has a lot more up its sleeves for its users. The application supports Windows XP, Windows Vista, Windows 7 and Windows 8.