Quickly Adjust Multiple Windows On Desktop With WinSplit Revolution
Do you work on 3-4 applications simultaneously and need to open each window frequently for reference or for any other purpose. While working on a big project you may need to open multiple windows to meet tight project timelines, would you be manually switching & setting each window on the screen to get along with, well you can pretty much adjust the windows manually, it'll be a serious nuisance and rather frustrating. WinSplit Revolution is a small yet powerful tool which can assist you out in handling this very situation.
As name suggests, it's built solely to split the windows without having to do it manually. It sits in system tray, you can launch it anytime when you've got to deal with multiple windows. The small nifty interface will let you easily adjust the active windows' position.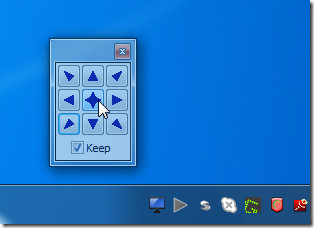 Just open the application windows in which you are working on, click the window to make it active and select the position arrow where you'd like to adjust the window. Repeat the same procedure to adjust all the open windows position. It'll promptly adjust the windows at the specified position. To view the specific window in fullscreen, make it active by selecting it and click the center button as shown in screenshot above.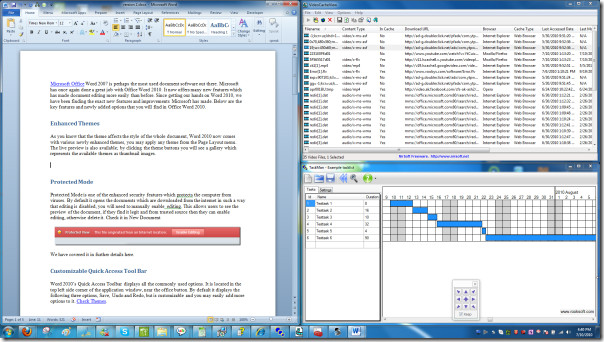 Right-click the system tray icon to bring up its menu, where you can register hotkeys, change Layout settings and configure other application settings which includes; language, export & import, virtual num-pad and other miscellaneous settings.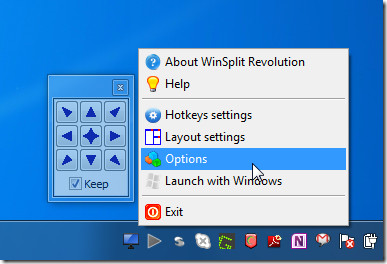 Though Microsoft has realized the need of adjusting open windows' position and added this functionality in Windows 7,  where you can easily spread only two open windows across the screen by dragging them to either extreme left or right side, this application will take this very functionality to the next level by letting you adjust multiple windows (upto 8 windows) without mush hassle involved.
It runs on Windows XP, Windows Vista and Windows 7. Testing was done on Windows 7 x86 system.
For more, you can also check out AltDrag to easily move/resize windows.