Rainlendar Is A Stylish, Customizable Calendar And To-Do List Manager
I have a very bad habit of forgetting important events and tasks. For this very reason, I keep a tab on my daily agenda using task managers and to-do list apps. I have used various web, desktop and smartphone apps, all of which have always come in handy to manage my tasks. If you're in the hunt of finding an elegant yet easy to use task manager utility for Windows, take Rainlendar for a spin. It's a calendar and tasks based utility that sits right on your desktop. This fully customizable calendar allows you to add widgets with changeable skins, mark events, create tasks, and get notified instantly whenever an event is near or a task is due. Since it can be started during system startup, you can take a peek at your schedule the moment you logon to Windows.
I love easy to use apps that boost productivity. Thankfully, Rainlendar is no exception. Upon launch, it displays three widgets on the desktop i.e. Calendar, Event List and Todo List. The Calendar highlights the dates of added events and tasks. You may place the widgets anywhere on the screen. Event list displays the upcoming events, such as a friend's birthday, wedding or anniversary. Likewise, Todo list can be used to jot down various tasks you want to accomplish.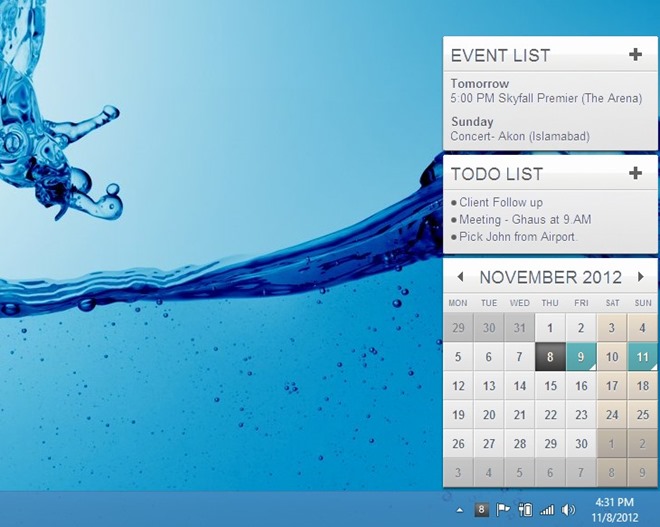 To add a new event or to do task, right-click on any widget and select New Event or New Task, respectively. This in turn opens up the editing console, where you can add the details of the pertaining event by writing a summary, specifying the location or URL, setting the start and end time, and filling the description. In addition, you may choose a Category under which the task or event should appear, for example, Business, Customer, Client, Anniversary, Birthday, Medical, Miscellaneous etc. After everything is in place, click OK.
Right-clicking Rainlendar's calendar widget displays the context menu. The context menu houses different parameters, such as, New event and New task, that I stated earlier, Windows, Calendars, Choose month and Refresh. "Choose month" option is super useful to instantly hop onto a different month or year. Further settings can be tweaked from Options.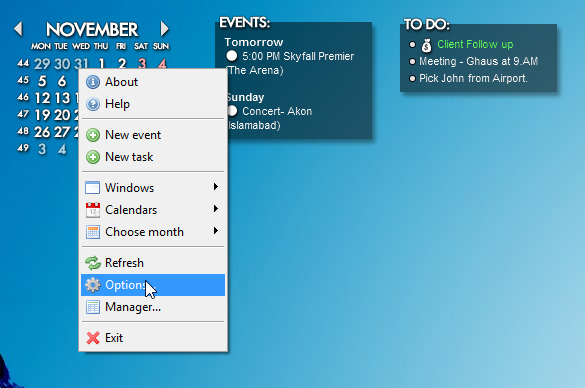 The Options console contains a number of settings under General, Calendars, Skins, Hotkeys and Advanced tabs. The General tab lets you toggle application specific parameters, for instance, enabling on startup, locking windows in place, changing language, and selecting widgets position.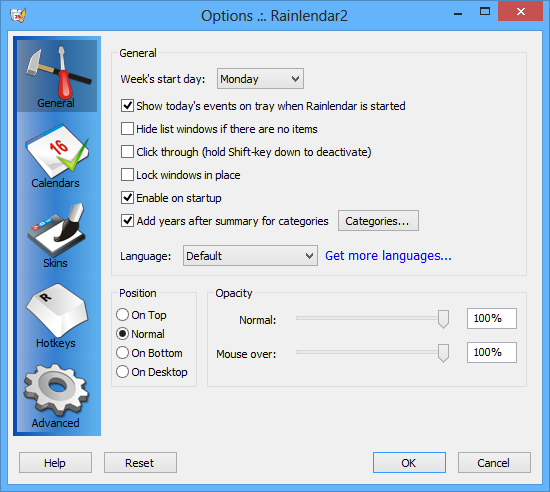 The Calendars tab allows you to tweak settings related to the Calendar, while you can choose a different skin from Skins tab.  I also recommend adding custom hotkeys (from Hotkeys tab) to instantly perform an action, like create a new event, jump to next month and so on. Power users would be delighted to tweak some additional settings under the Advanced tab.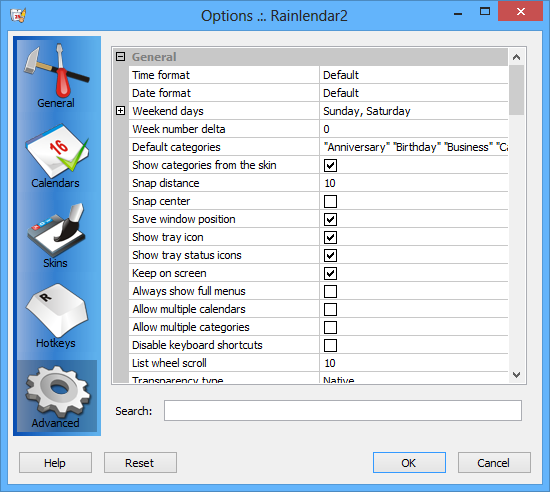 Rainlendar works on Windows XP, Windows Vista, Windows 7 and Windows 8. Testing was carried out on Windows 8 Pro x64 system.