Relocate Folder Data To Another Drive Without Changing Path With JunctionMaster
Linking folders with each other in order to keep track of important files is synonymous to creating a simple shortcut in one location to quickly take a leap to other (linked) folder. Besides linking folders in a conventional way, hard linking let users save data wherever they want without changing the original path. The most interesting characteristic of creating hard links is that all the associated applications which are relying on data residing in linked folder can easily access it while, in real, the data is physically present in other user-defined location. This comes particularly helpful when you want to free some drive space without having to physically move files to other drive.
JunctionMaster claims to make full use of NTFS capability of creating hard links. It allows you to quickly create hard links of folders from Windows right-click context menu, as well as, from a simplified interface.
Usage is a piece of cake. It takes nothing more than selecting 'MOVE and then LINK folder to' option from Windows Shell right-click menu followed by specifying target location for moving data to create a hard link.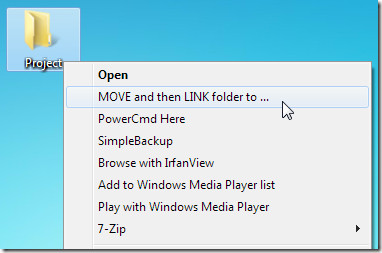 Once link is created, it will move all the data of source directory to New backing folder. Please note that the data can also be accessed from the original path of the source folder.
Now you can save data into linked folder without worrying about low disk space issues. It is worth mentioning here that changes in either source or linked folder will be made in both folders, meaning that removing a file from linked folder will delete it from source folder and vice versa.
It works on Windows XP, Windows Vista, and Windows 7. Versions for both x86 and x64 bit systems are available.