Remove Passwords And Edit PDF Metadata With BeCyPDFMetaEdit
BeCyPDFMetaEdit, as the name suggest, is a PDF metadata editor which allows you to edit the author, title, subject and keywords of a PDF document. Moreover, the document can be further customized by configuring the viewing preferences, setting bookmarks, page labels and page transitions. BeCyPDFMetaEdit functions in three modes; incremental, complete overwrite and repair mode. The first allows incremental updates to save document changes which provides the option to make changes to the existing file without altering the previous content. On the contrary, the complete overwrite mode is meant to transform the document with the applied changes including the previous content. The third mode is meant to repair damaged PDF documents. You can also remove PDF passwords to unlock PDF documents for which you might have forgotten a password.
To get started, launch BeCyPDFMetaEdit, select a PDF document, followed by an editing mode ; Incremental, Complete Overwrite or Repair.
Once done, you will be provided with a number of options which will allow you to edit PDF document meta data. The Metadata tab can be used to add a title, subject, author's name, creation date and keywords to the selected PDF document. To avoid conflicts with XMP metadata (if applicable), you can head over to the Metadata (XMP) tab and check the option "Delete XMP Metadata upon Saving of Document" .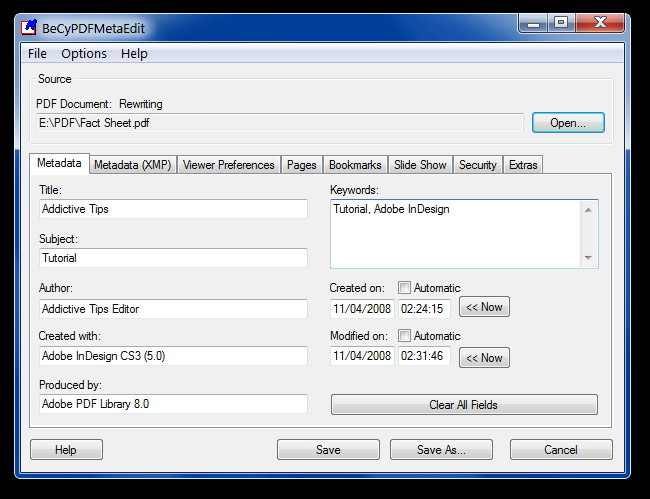 The Viewer Preferences tab allows changing the page layout, page mode (simple, thumbnail, full screen, etc), as well as hiding toolbar, menubar, window user interface and enabling document tile instead of file names. In case you would like to set page labels or add bookmarks to the document, you can do so by creating labels and bookmars from the Pages and Bookmarks tabs
The Slideshow tab provides options to add multiple effects to the PDF document. To add an effect, select a page from right-click context menu and click Edit. A new window will pop-up containing transition options. Select the Effect to apply, its duration, dimension, direction and save the document.
The below screenshot demonstrates the "Fly" effect which we applied to a PDF document. We tested it on Adobe Reader in Full Screen Slideshow mode.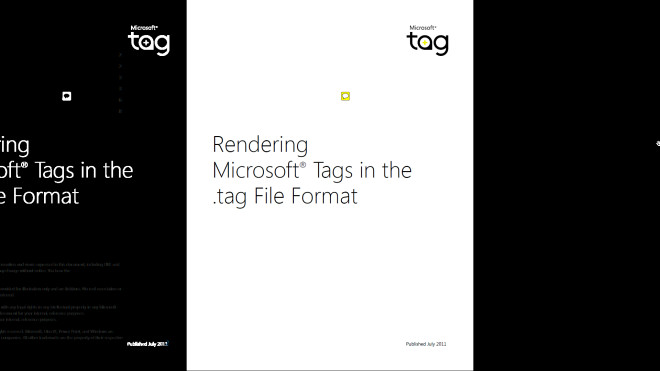 Perhaps one of the most handy features of BeCryptPDFMetaEdit is that it allows removing and adding password to PDF documents. To remove existing password, go to the Security tab and select no encryption from the drop down menu and click Save. On the contrary, to add a password, select passwords with low/high encryption option and enter a password in the text box which appears. Click Save to save your document in password protected form.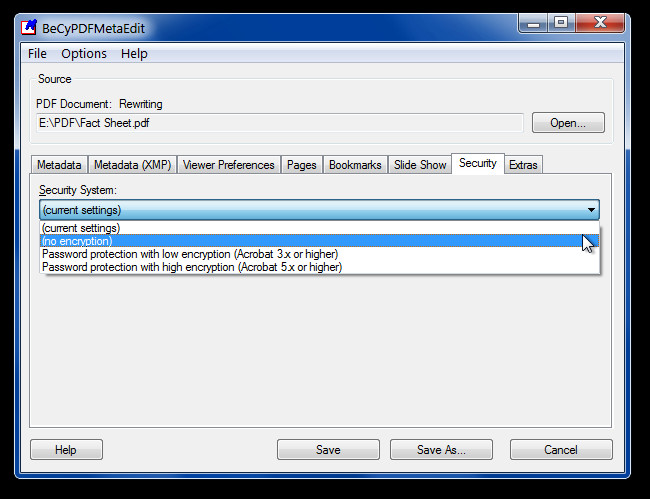 BeCryptPDFMetaEdit works on Windows XP, Windows Vista and Windows 7.