Restore Windows 7 To Default Security Settings
We all know that viruses, backdoor worms, etc can tweak the system settings and make it difficult for users tog et control of their system. If you are getting "You don't have permission to…." error or "0x80070005" error while registering components, then you have come to the right place.
Rizone Security Restore is a small portable utility developed to help you in such situations. It does take some time to restore security settings but it is worth it after all. In some cases it could take up to 10-15 minutes to restore the settings. Hit Go and let the app do it's job.
Note: Do NOT run this app unless you are getting any one of the above two mentioned errors. Consider this a warning from us. You can however run this app if you are getting installation failed errors a lot.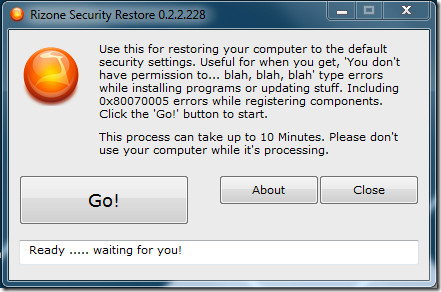 You won't generally face any one of the above mentioned errors unless your computer has been attacked by a virus.
Download Rizone Security Restore
It works on Windows XP, Windows Vista, Windows 2003/2008 Server, and Windows 7.