Router Port Forwarding/Redirection, Proxy Server Bypass via HTTP and TelNet
Tcp Soft Router is a light-weight tool which lets you perform common TCP routing operations like port forwarding, port redirection, proxy bypass, etc via HTTP and TelNet protocols. It runs as a Windows Service.
Once the tool is installed, you can access it via http(web browser) or telnet(command prompt). In order to access it in the browser, type localhost:17001 in the address bar then hit Enter.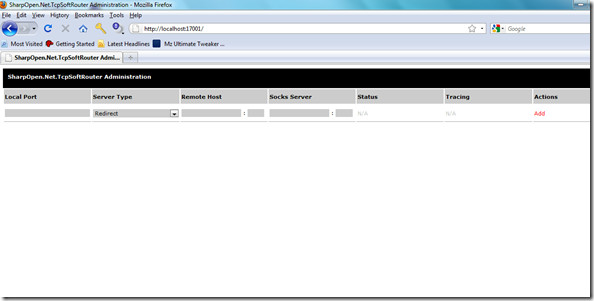 This tool can be helpful for network administrators as they won't need to tamper with the complex configurations of their routers. Here is the feature list of the operations that you can perform with this tool.
Port Redirecting
Port Redirecting through a socks server
Http Proxy Bypass – Https tunneling
Socks Server

It works on Windows XP, Windows Vista, Windows Server 2003/2008, and Windows 7. Enjoy!