Microsoft Office Publisher 2010: What's New?
Microsoft Office Publisher is a well known application by Microsoft which lets you create brochures, postcards, newsletters, websites, e-mails and much more. Millions of people are using it to manage all their marketing activities. We are in the process of reviewing the main products in Microsoft Office 2010, such as,  Word 2010, PowerPoint 2010, Excel 2010, Outlook 2010 and OneNote 2010. Lets see what new additions have been made to Office Publisher 2010.
Office Backstage
The Office Backstage feature of Microsoft Office 2010 is also included in Publisher 2010 and this feature adds feathers to its functionality. You can find the most commonly used items listed there, and working with Publisher is really fast with the help of this feature.
Save Files As PDF or XPS
Publisher 2010 lets you save files in the .pdf and .xps format. Also it lets you save these files as password protected to ensure enhanced security. This feature can be found in Word, Excel, and PowerPoint as well.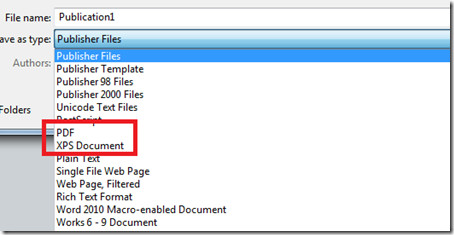 64-Bit Version
The 64-bit version of Microsoft Office Publisher is also available which provides the backward-compatibility so that the users can open, edit, and save any Publisher 2003, Publisher 2007, Publisher 2010 32-bit edition files easily.
Enhanced Photo Editing Features
Publisher 2010 offers some attractive photo editing features, allowing you to easily insert, edit, zoom, crop, and recolor photos in your publications. You can easily adjust the colors, brightness and contrast of photos.

Easy Targeted Emailing
Microsoft Office Publisher 2010 offers great ways to create and manage the customer's list. Its easy to create and edit the customer's lists from multiple sources like Outlook or Excel.  The Mailing menu on the Ribbon offers options, such as, create, manage and send targeted emails to customer's list.

Integrated Print Properties
Publisher 2010 has many enhanced print and preview properties. Hit the Office button and click the Print option. You will see many enhanced added features relevant to print and preview here.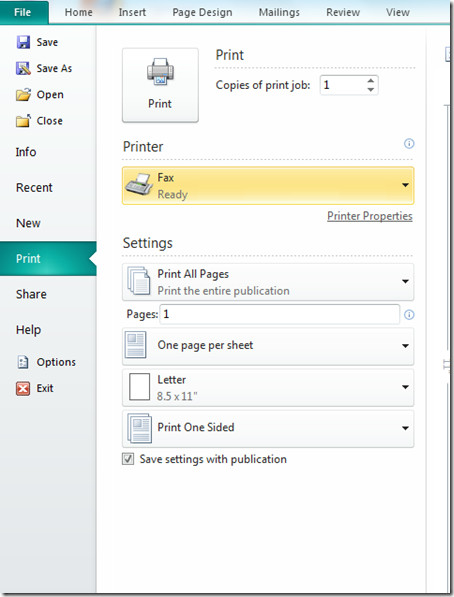 Improved Templates And Building Blocks
You will find new improved templates and building blocks which help in creating more professional-looking pages.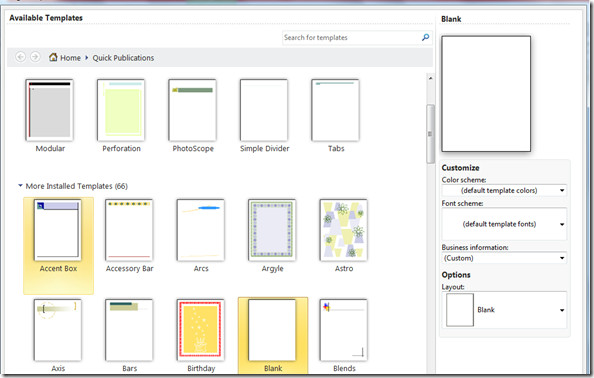 Catalog Merge
Catalog Merge is  another great feature in Publisher 2010 which let users easily merge text and images from a database(such as Microsoft Excel, Microsoft Access, or Microsoft Outlook). Now you will be able to initiate catalog merge at any point while making your publications. Go to the Insert Menu and hit the Catalog Pages option to insert the catalog merge.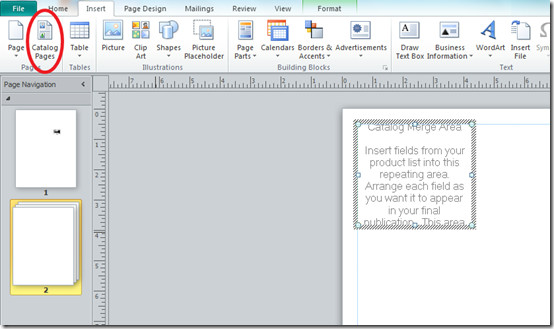 Conclusion
Microsoft  Publisher is not as popular when compared with other giant products like Word, Outlook, Excel, and PowerPoint. Although the new UI gives a fresh looks and makes it easier for users to publish, not much have changed except some limited new features.