Rowi Is A Simple Yet Elegant Twitter App For Windows 8
Without a doubt, Twitter has become the undisputed leader in the world of microblogging. Since social integration is one of the key elements of Windows 8 and RT, having a dedicated Twitter app on board makes a lot of sense. We have covered plenty of Twitter apps sporting the new Modern UI including Tweetro and MetroTwit and today, we are sharing with you yet another one called Rowi. The app allows you keep a tab on the latest tweets, mentions, messages and followers on your Twitter account in an amazingly fluid UI.
You can download Rowi from Windows Store. Either look for it under the Social category, or simply use the Search Charm to manually find the app. Once you have opened its in-Store page, click or tap Install to begin installation.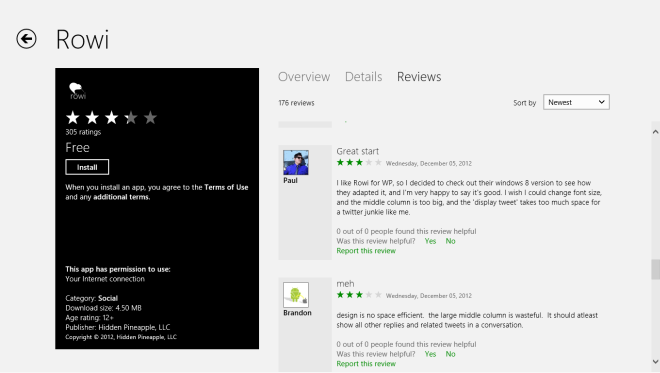 To get started, you'll need to enter you accounts details in order to log in to your Twitter account. Simply provide your twitter username and password, click 'Authorize app', and you'll be good to go.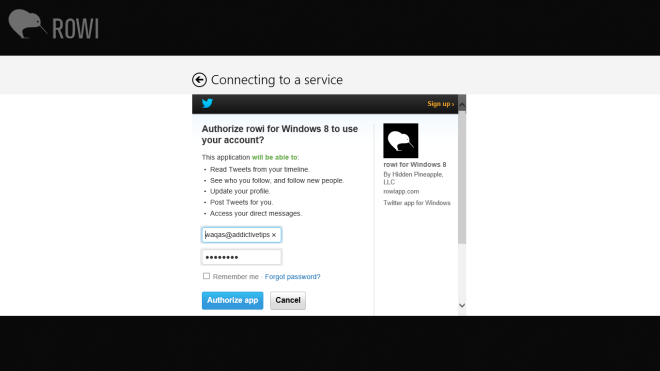 The application sports an attractive interface with meticulously designed menus. It's not just the design; the navigation between different screens of the app also feels impressively snappy. Furthermore, you can even select a background image of your choice for the app. The left area of the screen comprises of a list of latest tweets from people that you're currently following. In addition, it allows you to switch between Tweets, Mentions, Messages, and Favorites. Upon selecting a tweet, it appears in the center with big bold text that looks crisp and easy on the eyes. Any @mentions, external URLs or profile links are highlighted in green color, so you may easily tap or click them. To perform any further action on the selected tweet, there are buttons at the bottom that allow you to favorite, quote, retweet and reply. The interface also displays fresh and trending pictures as well as hashtags in the right part of the screen.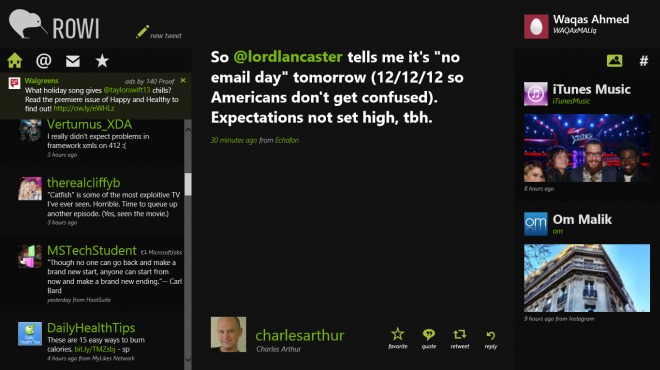 To post your own tweet, click 'new tweet' button at the top left corner start typing. After entering the text, simply hit the Tweet button to the left to send it to your followers, or close the box, should you have a change of mind. This is one area of the app that is majorly lacking, as there don't seem to be any options for including images in your tweets. Integration with image sharing services as well as an option to snap a picture from the camera of your device to quickly share it would be a welcome and absolutely necessary addition, and hopefully the developers will address this shortcoming in a future update.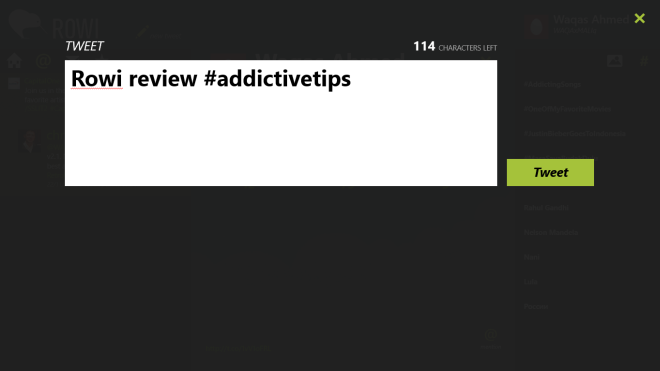 To change any application-specific settings, you can access the configuration bar via selecting Setting from the Charms Bar, and then hitting the Configuration button. The configuration area enables you to change the Background image of the app, toggle notifications and mentions, as well as specify update frequency for the notifications.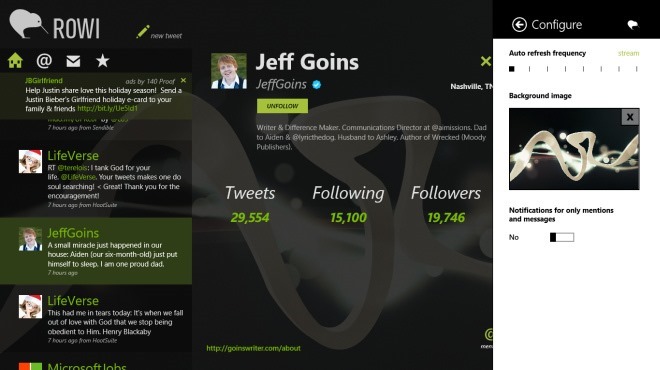 Rowi works on Windows 8 and Windows RT.