Safe In Cloud Is A PC & Android Password Manager That Uses Your Cloud Storage For Syncing
When it comes to password managers, LastPass pretty much seals the deal for most of us. That said, there are several other choices that keep popping up on the scene. One of them that I recently came across is Safe In Cloud for Windows and Android. The interesting bit about Safe In Cloud is that, unlike LastPass, it synchronizes your passwords to your own cloud storage and supports Dropbox, Google Drive, SkyDrive and Box.net. The application has a really clean interface, and does a wonderful job of safely storing passwords, notes, credit card numbers, email accounts and more. It keeps your all passwords in an encrypted database shielded by 256-bit AES encryption, making it quite safe and secure. What's more, it can also import and export data between other password managers, and sports full browser integration with Firefox and Chrome.
After installation, Safe In Cloud brings up a configuration wizard allowing you to create a new database, as well as offering existing users to restore their passwords from the cloud. When creating a new database, the application will also ask you to set a new password, displaying its strength according to how secure it is.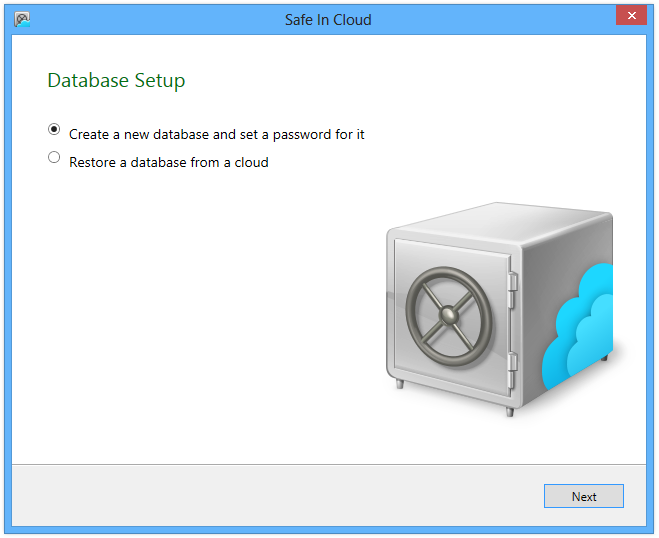 Next, you're presented with the app's main interface, which looks plain and simple. The application carries a list of a few predefined templates such as business, private, samples, unlabeled etc. There templates allow you keep supported items more accessible and organized. For instance, you can create a passwords template for all your email accounts and manage them under one roof. Likewise, you can create a separate template for bank and credit card details. Safe In Cloud also lets you store notes and many additional types of items.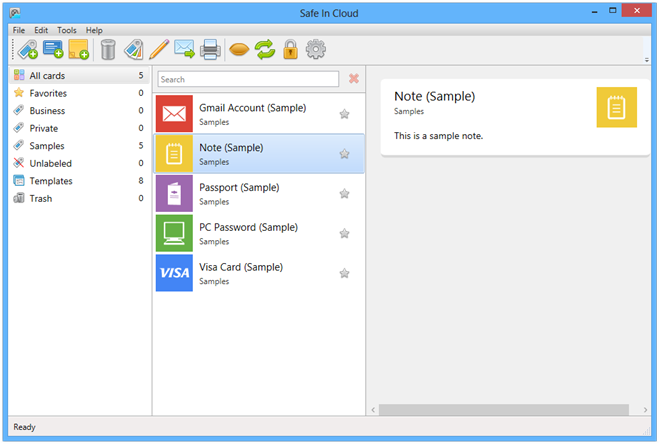 When it comes to templates, you're offered the options of Code, Credit Card, Email Account, ID/Passport, Insurance, generic Login/Password, Membership, and Web Account. In addition, you can also create a custom template that suits your specific requirements for a type of information set.
As mentioned earlier in the review, you can easily sync your data between your PCs and Android devices. The application makes use of Dropbox, Google Drive, Box or SkyDrive for the purpose. But first, you will need to authenticate your desired service from the Options window. You'll have to sign in to your cloud storage and provide the appropriate permissions to get started. The Options window also allows specifying a few security parameters related to the app. For instance, you can set it to erase any clipboard items after a specified interval, and lock Safe In Cloud when it's no longer running in a foreground window, requiring you to enter the master password again when you open it.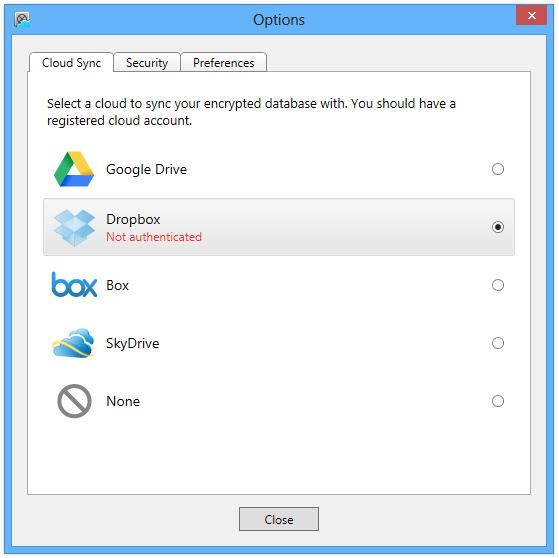 Safe In Cloud for Windows is available for free but if you want to use the service on Android as well, you'll have to shell out $4.99 at Google Play for it.