Screenpresso Lets You Capture Images And Record Videos of Your Screen
They say a picture is a worth a thousand words. This holds even truer for bloggers, since they rely heavily on screenshots. When reviewing an application, screenshots play a major role in communicating with the users. Even as a user, we always prefer a guide laden with images over a review in plain text. Screenpresso captures images from your desktop, but, what sets it apart from other screen capture tools, is its video capture feature. You can capture full screen, part of the screen or a specific window, both in image and video mode. The built-in image editor lets you edit images in detail, and you never loose track of your screenshots with Screenpresso history. Share the images on Twitter or upload the videos to YouTube directly, Screenpresso supports these both.
The application runs in the system tray, allowing access to different capturing modes by right-clicking its icon. You can select from Screenshot selected region, Screenshot previous region (to auto-capture the previously selected region), Screenshot full screen, Screenshot using autoscroll (to capture a scrolling region), Record Video (to record whole screen), Record video region (to record a region), Screenpresso History and Settings. You can also access these options from their respective keyboard shortcuts, which may take a little time to master.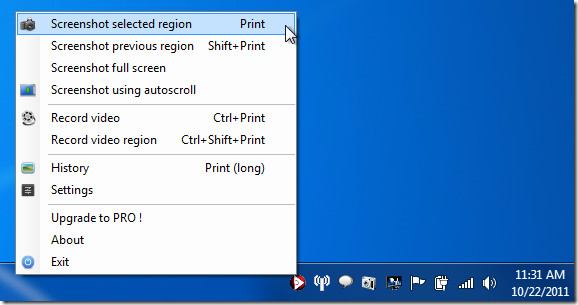 Whenever you capture an image or video, it goes to Screenpresso History so you don't lose track of your screenshots. All the screenshots are stored here, so you don't have to worry about losing them.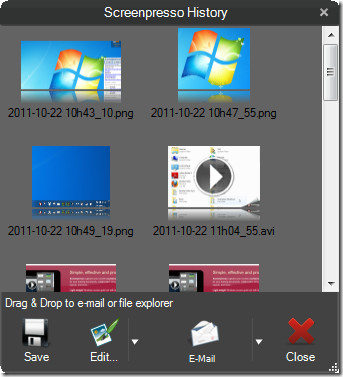 The application allows you to edit the screenshots using the built-in Screenpresso editor. You can crop, resize, include borders, add text boxes and arrows, blur a part of image, and do lots more with the built-in editor. If you want, you can also export the image or video to an external editor.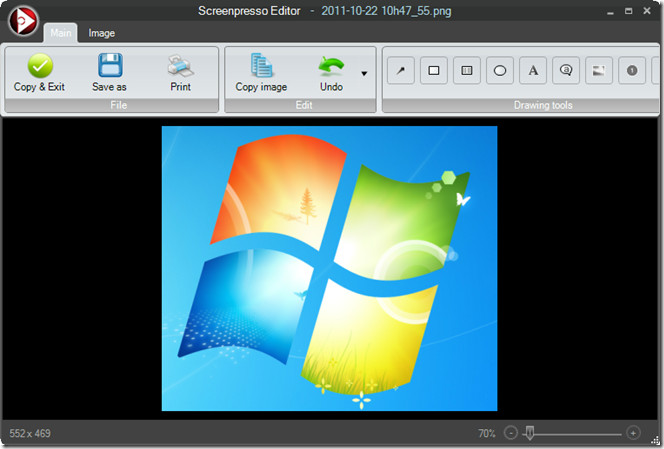 The Settings menu lets you configure General options, Screenshot preferences like Default Image Format, Filename, Image Resizing etc., as well as Sharing Accounts, Video Capture settings and Advanced options.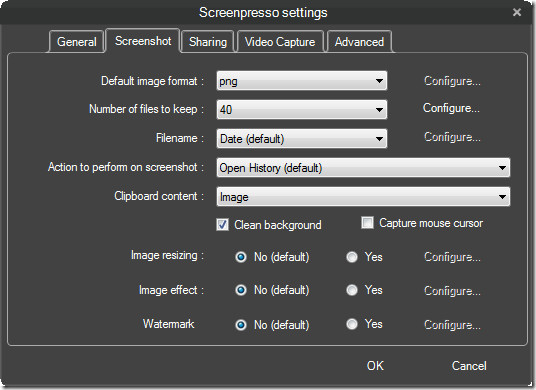 Screenpresso comes with both a free and paid version. The free version has some limitations e.g., a cap of 15 seconds on video capture, and being able to edit the picture only once using Screenpresso editor. Also, the video capture in free version puts a watermark on the lower right corner of the video. Despite these limitations, Screenpresso offers a solid screenshot tool with comprehensive options even in the free version. It is a portable application and works on all 32- and 64-bit versions of Windows.