Search, Join, Merge, And Download Subtitles With SubtitleTools
Back in 2009, we covered two useful subtitle editors with an inherent quality of syncing – Subtitle Edit and Subtitle WorkShop , we found Subtitle WorkShop more easy to use for editing and syncing with video FPS than Subtitle Edit. Subtitle Tools is a new utility that packages a set of tools to sync, join, merge times of multiple subtitle files while offering on the fly search for subtitle files from OSDB (Open Subtitles database). With Subtitle Tools, you can also convert an inserted subtitle file to UTF-8 format. Since it produces search results in real time, users can quickly find out a specific part for editing.
The application interface is nicely designed, all the options and tools are provided in the top lane. To edit a subtitle file, all you need is to specify the subtitle file. Once selected, it will display the file content in the bottom pane. Along with timings, subtitle content can be edited and deleted row-wise. Conversation to UTF-8 format can be done by clicking respective option in toolbar.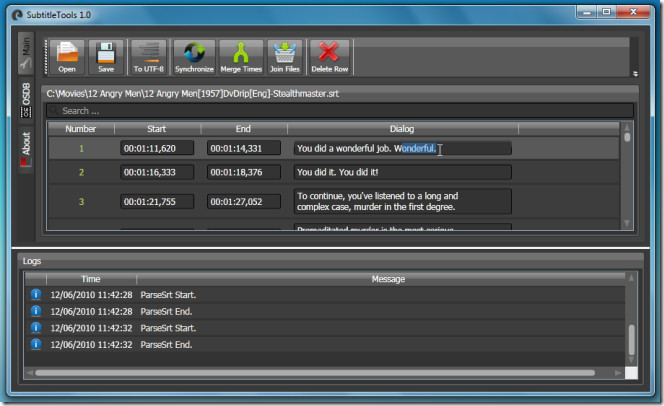 The application offers a simple way to sync subtitles with video FPS, just enter the amount of time that is to be added/removed to attain proper synchronization.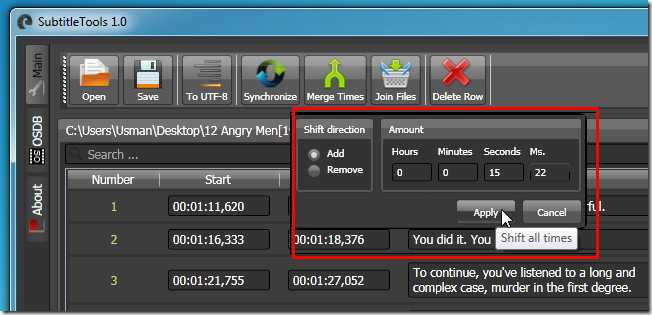 It happen quite so often that we find subtitles for a video in two parts (for part 1 and part 2). SubtitleTools lets you append the timings of second subtitle file into first one, so you can play it with one video file.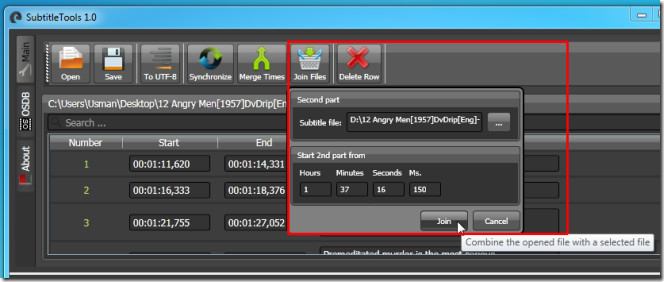 To search subtitle files from opensubtitles.org, click OSDB present in left flank, specify the subtitle language followed by the name of movie file or path where the movie is residing and click Search. It will start listing down all the files in bottom pane. Now all you need is to select a file and click Download Subtitles.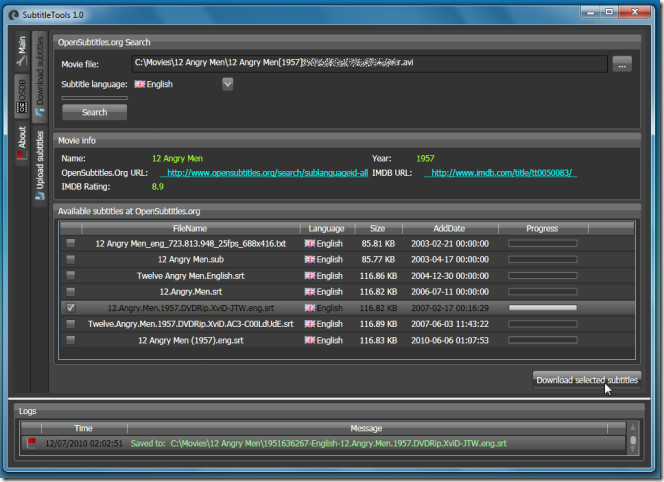 Similarly, subtitle files can be uploaded to different sources. Click Upload Subtitles (present beneath the Download Subtitle button), specify the movie file and respective subtitle file, finally click Upload Subtitle.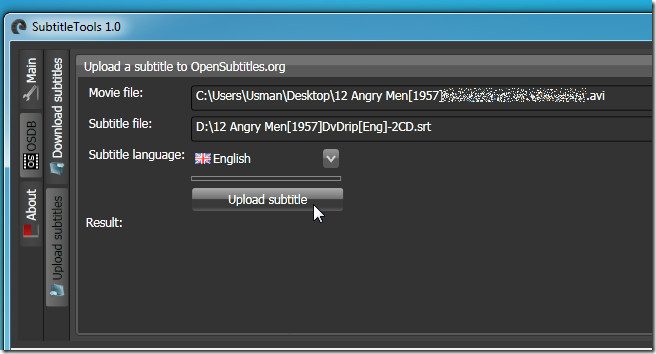 Aside from some interface-specific glitches, the application works without showing any problems. It supports Windows XP/Vista/7, testing was carried out on Windows 7 x64 system.