Shairport4w Brings Apple AirPlay Audio Playback To Windows PC
Ever craved for the neat AirPlay feature of Mac and iOS devices but not enough to ditch Windows and make the switch to Apple products? Ever envied your friends after watching them play music from their iPod to their Mac without transferring any files? You can now enable your PC for the same AirPlay audio playback, thanks to a tiny free app Shairport4w.
Shairport4w does one thing and does it well – it enables your Windows PC to act as an AirPlay receiver. In case you aren't familiar with AirPlay (previously called AirTunes), it is an implementation of wireless media streaming over WLAN by Apple that lets an AirPlay sender device play media to an AirPlay receiver device. Officially, AirPlay sender devices include Macs or Windows PCs running iTunes and portable Apple devices such as iPods, iPhones and iPads running iOS 4.2 or later, while official AirPlay receiver devices are limited to AirPort Express, Apple TV and some AirPlay-enabled third-party speakers. That's where Shairport4w comes in.
Shareport4w requires Apple's Bonjour service to be running. If you have iTunes installed, you already have Bonjour. If not, launching Shairport4w for the first time will prompt you to install Bonjour first and will open the download page for you in your defalt browser as well, though you can alternatively just install iTunes instead and you'll have Bonjour. Once Bonjour is installed, simply launching Shairport4w again should do the job. You will be presented with the following interface. If it isn't visible, you can make it show using the status bar icon.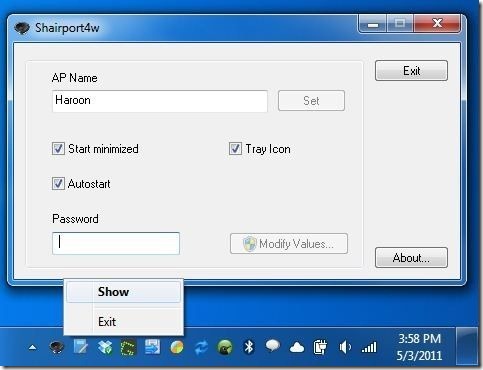 Now, specify a name to identify your computer on the network and click the 'Set' button. You can then minimize the app and forget about it altogether, though if you choose, you can set it to automatically start with Windows and even start minimized. Thus, it is truly a 'setup once and forget' app. Now the magic begins!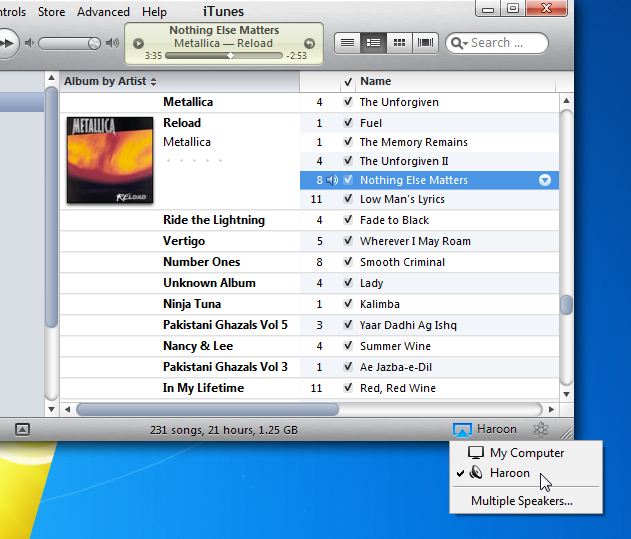 Simply launch iTunes on any computer or portable Apple device such as iPad, iPhone or iPod Touch connected to the same wireless network and in the AirPlay menu, you will be able to see the name you used to identify your computer. All that's left to do now is to select this and start playing a song to play it on your Windows computer – it just can't get more simple than this.
Oh and we nearly forgot! Don't want every guest visiting your place with an iOS device playing music using your PC's speakers? Don't want colleagues playing those nasty audio clips to your workstation while you are in the middle of writing that important summary right under your boss's supervision? Shairport4w fortunately allows you to set a password so that only those who know it can play music on your computer.
Shairport4w is a free, open source and portable application that comes as a single file with no need for installation, and supports both 32-bit and 64-bit versions of Windows XP, Visa, and 7. Testing was done on Windows 7 Ultimate 64 bit.