ShareMouse: Control Computers With Keyboard & Mouse Without KVM Switch
When we think of sharing a keyboard and mouse across multiple systems, the Synergy application comes to mind. But Synergy has had its fair share of issues and has a better alternative in the form of Mouse Without Borders application by Microsoft. ShareMouse is a new yet similar cross-platform application which lets you share your mouse and keyboard with multiple computers on the network; both wired and wireless. ShareMouse has been designed to work similar to a KVM Switch (short for keyboard video and mouse) which is a hardware device to control multiple computers from a single keyboard, video monitor and mouse. A KVM switch is not only expensive and bulky but also requires pushing buttons manually to switch keyboard and mouse control from one system to another. The advantage of ShareMouse over Mouse Without Borders is that it is cross-platform; works on both Windows and Mac.
ShareMouse connections can also be hidden and encrypted over a LAN in order to keep the mouse and keyboard communication secure from unauthorized users. This protective feature makes ShareMouse a lot secure than other applications of its kind. Just like Mouse Without Borders, you can share items across multiple computers by dragging and dropping the file(s) to another system. To get started, install ShareMouse on at least two separate computers over a network and go to Settings from the system tray menu to configure connectivity settings.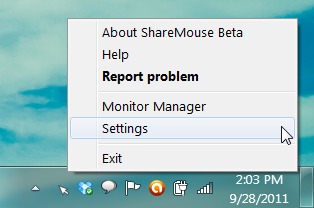 To enable drag/drop of files and clipboard synchronization, head over to the Data Exchange tab. You can assign a hotkey to paste the shared clipboard. The Network tab allows selecting a UDP port for communication. You can also click Find Free Port button to automatically set a free communication port for the network computers which use MouseShare. The Online Update tab is meant to check for application updates, whereas the Security tab provides password protection and encryption for connected MouseShare computers. From this tab you can either select the unprotected mode or enable the Protected Mode which will only allow clients with the same password to connect. The connection will also be connected for maximum security. Once your configuration is complete, the keyboard & mouse sharing will immediately get activated. Just make sure that both system are using the same UDP port for connectivity.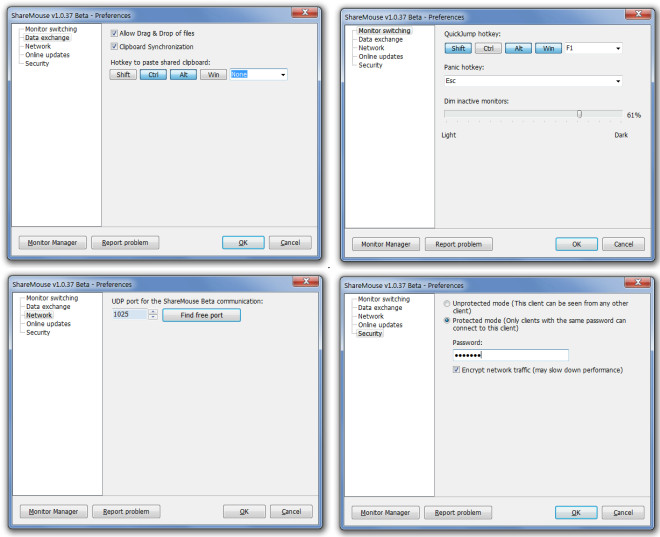 You can manage your connected Monitors by selecting Monitor Manager option from the system tray menu. From Monitor Manager, you can organize the monitors layout by dragging the available screens to change their order.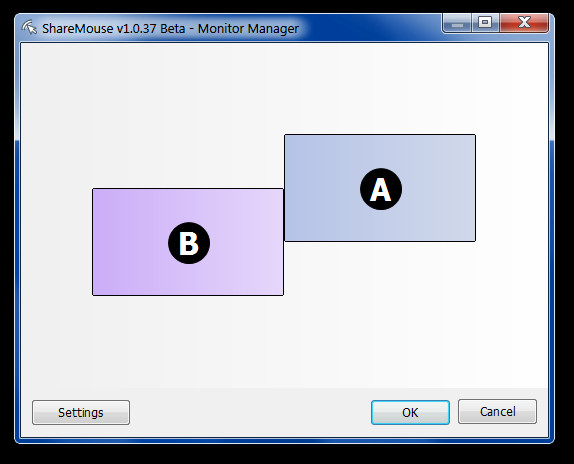 To learn more, check out the video below.
MouseShare works on Windows XP, Windows Vista, Windows 7 and Mac OS X. During testing we found that the files can be dragged from one system to another, provided that they are running the same operating system. You cannot drag and drop files from Windows to Mac and vice versa. Also it does not support copy & paste operation, only dragging of files is possible (to move them) from one system to another.