Single Click Restore Point Creator For Windows 7
Having system restore points is vital, so that we have a point of return to specific previous stages just in case if we face any disaster. We have already covered how you can create system restore point in Windows 7 via control panel, but you may find it it to be a time consuming task to go through so many steps just to create a system restore point.
Single Click Restore Point is a free, portable utility which saves you a lot of time as it lets you create the restore point of your system with a single click. All you have to do is download it and run its executable file. It will display a simple message after some time informing you that the system restore point has been created successfully.
So the next time when you will go to view the available restore points of your system,  you will find the restore point which you created using this tool listed there as well.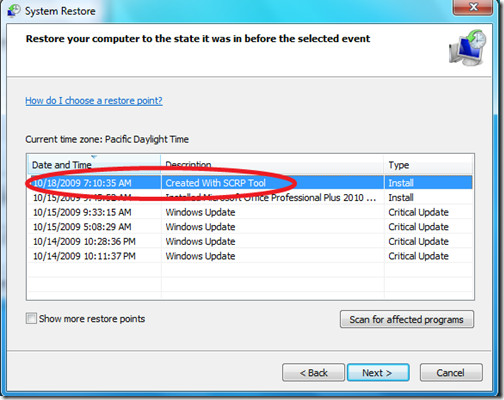 Download Restore Point Creator
It though it has been developed for Windows 2000, Windows XP, and Windows Vista, we were able to test it successfully on Windows 7 as well. Enjoy!