Split & Merge PDF Files With Ease Using 7-PDF Split & Merge
If you're looking for a simple, efficient and easy-to-use tool that can split and merge PDF files for free, 7-PDF Split & Merge can come in handy. With a straightforward, understandable interface, this program only does what it is supposed to do: split and merge PDF files, and it does them good.
The interface consists of four tabs: Split PDF Files, Merge PDF Files, Info and Extras. There are no menus or options, everything is presented on the relevant tab. The split tab allows you to split as many PDF files as you like, since the program can handle batch processing. Splitting can be done page-by-page, even pages, odd pages, and so on.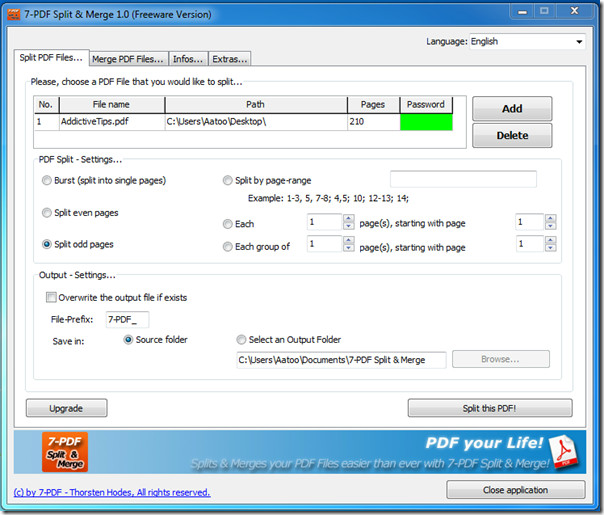 The merge tab allows you to bind multiple PDF files into one, in the order that they have been loaded into the program. There aren't much settings here, except how you want the output file to behave.
The final two tabs, Infos and Extras, only provoke (or lure) the user into buying other products of the authors, or upgrade the existing one. Main features of 7-PDF Split & Merge include:
Use the tool to split PDF-files
Merge PDF-files together in the way you prefer
Compose new PDF-Files while using individual sorting, customized patterns (similar to Word printing), etc.
Fully compatible with Windows 7
You can even append encrypted PDF files to another PDF document
Process password protected PDF files
Multi language support. You can switch between languages at runtime. Support for English and German is already included.
The program works on Windows 7, Vista and XP. We tested it on Windows 7 32-bit OS.