Strip Images Of EXIF Data With Image MetaData Stripper
Metadata of images can contain personal information about a user, along with extra imagery which one might not be willing to share along with the image. For instance, Photoshop generates small preview images which are hidden in the original image. If you simply crop the picture and resave it under the original file name, the preview thumbnail stays the same and reflects not what your image currently looks like, but instead it appears like the original image. Moreover, EXIF data can end up displaying your geolocation along with your image which is quite undesirable for many users. As this data can be misused by scammers from your pictures online. Image MetaData Stripper is a portable application (for Windows and Mac) which removes metadata from common image files in JPG or PNG formats. It does not alter the image quality, and can process multiple images in a snap. You can also automatically save a backup of the source image.
Just drag and drop image(s) to the main interface or use the Open Image File Button. All selected images will be instantly stripped of metadata (as soon as they are selected). You can select the Keep Image Backups option to keep the source image with the metadata.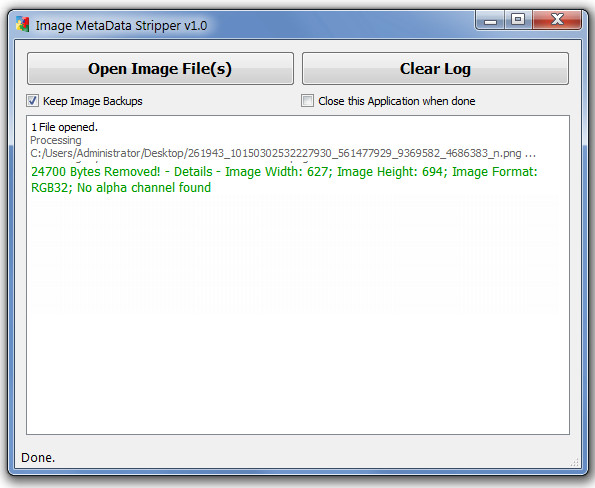 Image MetaData Stripper works on Windows XP, Windows Vista, and Windows 7. It is also available for Mac OS X.
Download Image MetaData Stripper