Super Unit Converter: Conversion Tool With Support For More Units Than You Can Count
With the  tremendous amount different units, we often find the need to perform unit conversions. Moreover there are two units of measurement sanctioned among USA and the rest of the world (metric and imperial system), which increases even more complications. Even though Windows comes packed with a calculator application that lets you perform most of the basic unit conversions, most users would prefer using Google search instead,  to quickly convert a required unit's value into another. But sometimes we don't have any quick access to the internet, so having an offline Unit Converter readily available, comes in handy. If you've been looking for an advanced, offline unit converter that supports a wider range of units, then give Super Unit Converter a try. Unlike previously covered ESBUnitConv (an extremely comprehensive unit converter), it provides a cleaner and good looking interface. It has the ability to convert almost any unit including Power, Volume, Temperature, Area, Bits and Bytes, Mass, Pressure, Speed, Density, Force, Fuel Consumption and more.
Note: It may be pointed out that during installation, the installer offers to download and install ReleventKnowledge and SweetIM toolbar to your machine, as well as set  SweetIM as the default homepage and search engine. This, however, can easily be averted by declining both the programs during the installation process.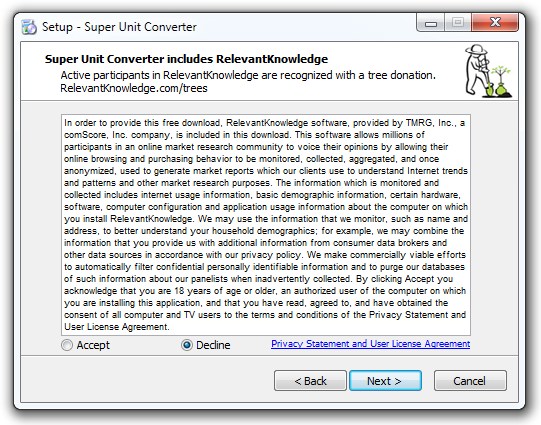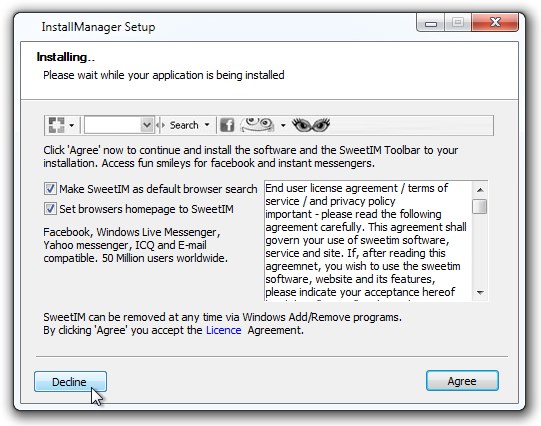 The application itself is designed using a blue palette and enables you to convert tons of different units with any given amount you want. To perform the conversion, all you need is to select the unit category from the drop down menu present at the top left corner of the window, followed by required unit present in From pull down menu. Once done, input the unit amount and all the available converted units will get listed in the main window. As mentioned earlier, it supports a huge array of units. For instance, Temperature not only includes the much used Celsius, Fahrenheit and Kelvin units, but also has units like Rankine for absolute temperature measurements.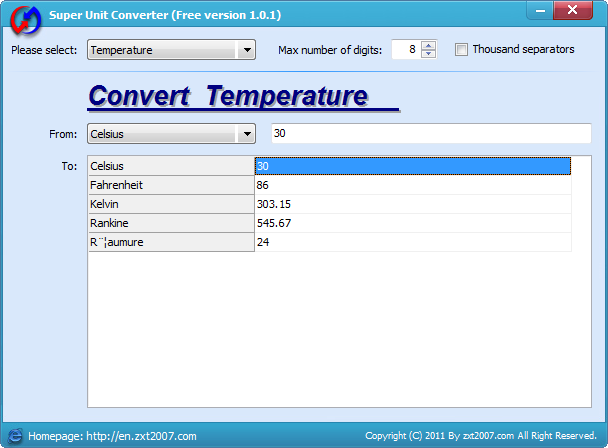 You may also set Max number of digits after the decimal and enable/disable Thousand separators for the unit amount from the main window. Other than that, the utility doesn't contain any application specific settings to configure.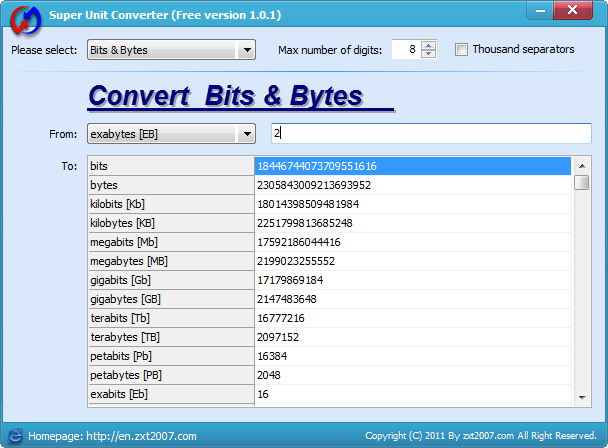 Overall, Super Unit Converter is an excellent application, with an elegant UI and more units than you'll probably need. It works on Windows XP, Windows Vista, Windows 7, Windows 8. Both 32-bit and 64-bit OS editions are supported.