QuickSoundSwitch Helps Switch Between Sound Devices From System Tray
If are you using multiple sound drivers for different sound output devices, you must be manually switching between installed sound drivers by taking a long route to open Windows Sound settings from Control Panel. QuickSoundSwitch provides the options to quickly switch between different sound drivers from Windows system tray menu. It provides the utility of accessing all the installed sound cards, so you wont have to open Control Panel to get to Sound settings. It also comes handy in situations where your system is connected with HDMI monitor and you want to quickly switch to HDMI speakers from system default sound output device, with QuickSoundSwitch up and running, just right-click its icon in system tray and select the HDMI sound driver.
It is a system tray application and works perfectly with Windows default sound configuration without any sorts of conflicts. Just run the executable file and switch to sound driver you want. If it doesn't load all the installed drivers of different sound output devices, select Reload list of Soundcards option.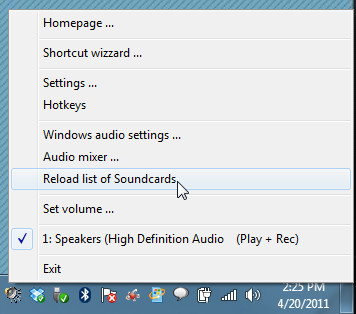 You can also access Audio mixer from the menu to control selected Speaker, Wave, Midi, CD-Audio, and other available sound mixers. The Windows audio settings option directly opens the Sound Playback dialog to configure all the installed sound cards.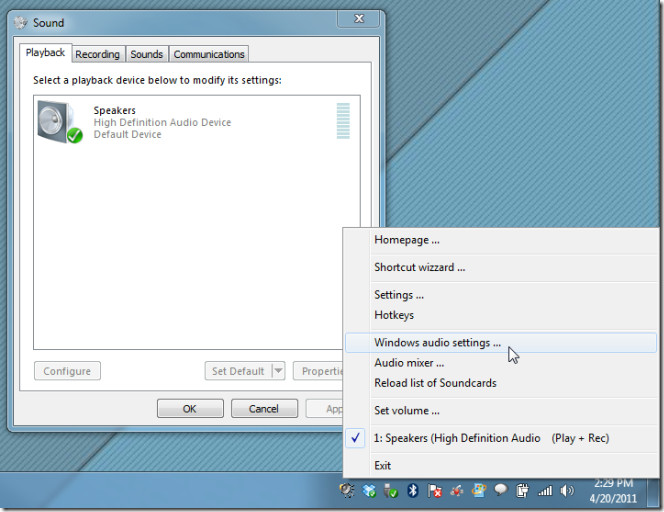 During testing it on Windows 7, we faced some problems while registering hotkeys. If you're using Windows Vista, you can download QuickSoundSwitch variant from developer's product page.
It works on Windows 2000, Windows XP, and Windows 7.