Syncios: iOS To PC File Transfer Client That Lets You Export App IPAs
We all know how powerful iTunes is. It's almost a mandatory software if you own an iOS device, as without it, you can't sync your files between your PC and iPhone, iPad or iPod Touch. Despite it's usefulness, iOS does have its limitations (and so has iTunes, for that matter). You can transfer files between your PC and iOS device, but only to a certain extent, and most of the time, you'd find it unfair to be bound by those limitations, such as not being able to access the files system, use it as storage device, being unable to backup music/videos/photos to any desired PC, and being unable to share your files with your friends, at least natively. Syncios is a powerful software that has taken up the gauntlet to provide you with all the said functionalities, without even jailbreaking your iDevice (or at least that's how it seems, as my testing devices were already jailbroken). It's the 'Ultimate transfer solution between iPod/iPhone/iPad & PC' – that's how developers have advertised it, and we couldn't agree less. Coupled with a ravishing UI, it's not only quite easy to use, but also extremely handy to move files back and forth between your iOS device and PC. Along with letting you transfer music, photos, videos etc, it also enables you to back them up to any target location, install, remove or backup apps, use your device as a USB storage and lots more. Does it fare well with other third party counterparts? Let's take a look!
The application sports an eye-candy and intuitive user-interface. When you connect your device, it easily detects it and displays all the pertaining information under Device Info section to the left, which lists Device Name, Jailbroken (status), Capacity, firmware version and Serial Number. I tried connecting in both the iPad and iPhone, and the application worked like a charm.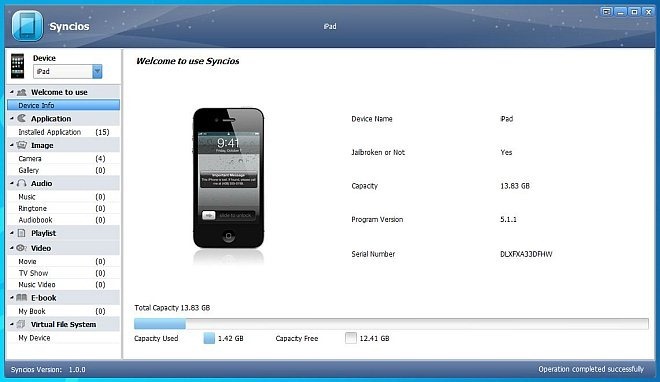 One of the things that appealed us, is how easily Syncios lets you manage your apps. You can Install Local Applications (i.e., from your PC), Uninstall apps and Back Up your apps to your computer as IPA files, which also, in turn, lets you install them to other devices. To top it all off, you can do it all in batch.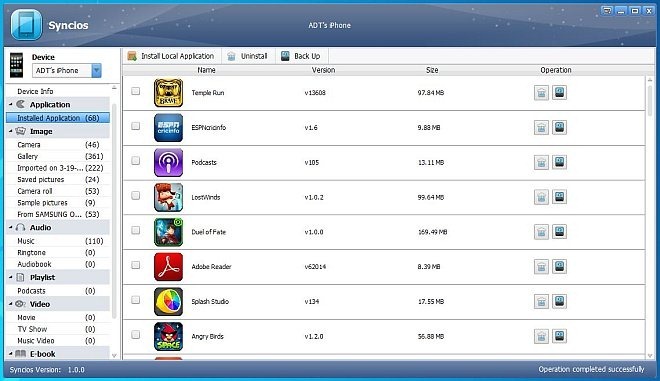 The same thing goes for your Videos, Photos and Music. The application allows you to Export and Import your files, create Playlists, Photo Galleries and so on. It enables you to export camera roll to your computer, so you may easily share the images within with your friends.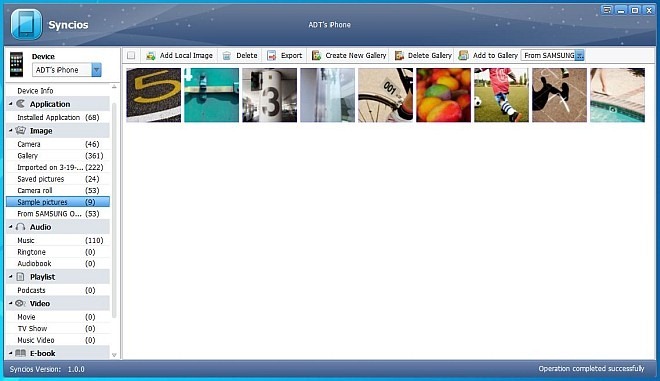 Did I mention that Syncios also facilitates you to use your device as USB mass storage? The Virtual File System is quite handy to import and export files, and access the system files of your device – a feature that is not available by default.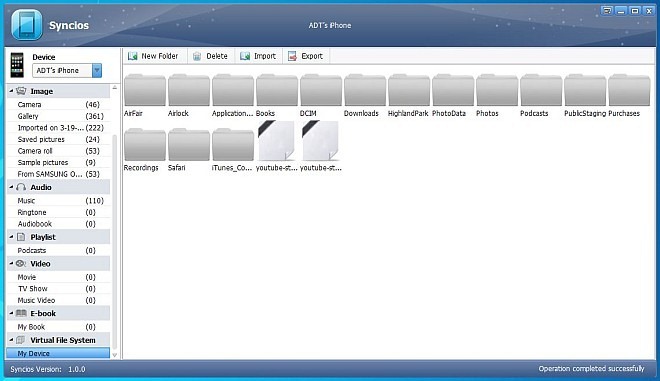 In my final verdict, I believe that Syncios is pretty impressive. It opens the gateway to get the most out of your iDevice, especially where iTunes hinders you. The application works on Windows XP, Windows Vista and Windows 7, provided you already have the latest version of iTunes installed on your PC.