Syncplify.me Notepad Is A Notepad++ Alternative With A Modern, Ribbon UI-Like Design
Text editors for Windows come in a variety of shapes and sizes. Here at AddictiveTips, we have reviewed some of the very best from the lot, such as NeechPad, ModernNote (which is basically a Modern UI notepad for Windows 8 and RT), TinyNotepad, and the text editing powerhouse, Notepad++ and its various plugins. I have seen most advanced users preferring Notepad++ over other alternatives due to its extensive feature-set, but those who are seeking a balance between good design, simplicity and features can give Syncplify.me Notepad a try. It's a Windows application that, besides carrying an elegant, minimal design, sports a decent number of advanced settings for programmers, web developers and coders.
Text editors are not merely used for jotting down general-purpose notes, listing tasks and to-dos. Advanced tools like Notepad++ ship with syntax highlighting and a multi-tab interface to help developers and programmers achieve more in less time. Syncplify.me Notepad, fortunately, carries these two features as well. In addition, it lets you edit text files with sizes greater than 4GB, search within files to quickly rectify errors, and has a handy split-editing option to view and edit two text files side by side.
Another interesting bit about Syncplify.me is its Ribbon UI-like design, which is both intuitive and easy on the eyes. It is also optimized for touch-based displays and devices, making the app an excellent Notepad++ alternative for Windows tablet users. The Ribbon carries three tabs at the top labeled File, Edit and Advanced, where Edit section offers all your usual text editing utilities.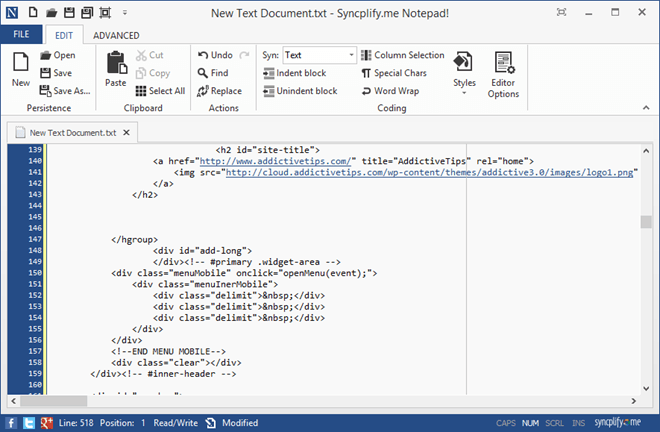 Clicking he File tab switches the application to a bare-bones Modern UI-styled interface, which just lets you open, save and print any text file or the ones you recently edited in the program – likely meant for distraction-free reading.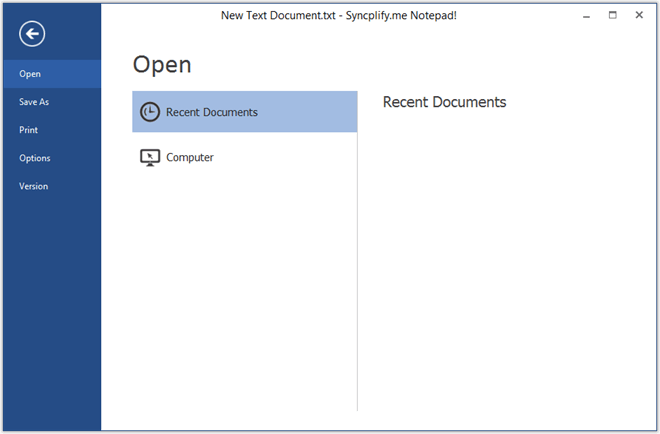 As mentioned earlier, the text editor is also ideal for advanced users, programmers and coders. From the Advanced tab, such users can get access to features like Document Map, Split Editor, Find in Files and Hash Code. That's right, you can quickly check the integrity of documents using a built-in hash code calculator, which supports CRC32, MD5, RIPE-MD160, SHA1, SHA256 and SH512 algorithms.
The 'Remove Blank Lines' option in this section clears all empty lines from a file, while 'Trim Lines' removes any redundant spaces. Other options include exporting documents to HTML and RTF formats.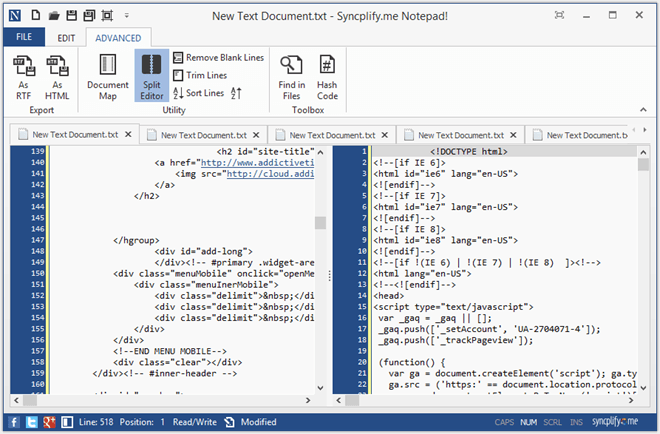 Syncplify.me Notepad is free for both personal and commercial use. It works on Windows XP, Windows Vista, Windows 7 and Windows 8.