System Uptime Full Gadget Shows Windows 7/Vista Uptime Comparison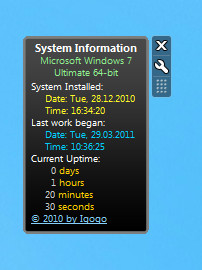 'System Uptime' refers to the time during which a system is working without failure and has had zero downtimes. Over a period of time, a system can end up slowing down or breaking down due to excessive usage. One way of checking the current uptime of the system is through the Performance tab of the task manager and via the command prompt as explained in our post here. However, one might need more information to get a better comparison of system performance by checking the uptime from numerous intervals. System Uptime Full is a Windows Gadget that displays the system uptime from the time of system installation, current uptime and uptime of the last time the system was used.
It also displays some general information, including operating system type, version, date and time of operating system installation. This way you can compare your system's uptime since the first time the OS was installed to the last and current usage. The gadget also displays the date and time of the last system usage which can be quite handy to track if the system is being over-used. The gadget is compatible with both Windows Vista and Windows 7.